strawberry production booming in California
Even though California's Watsonville-Salinas strawberry production levels in early July were 3 million trays behind last year's level at the same time because of an early freeze, the state's overall numbers are ahead of 2007's record-breaking volumes.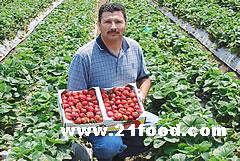 Marc Cervantes, who grows
strawberries
for Driscoll Strawberry Associates Inc., Watsonville, Calif., said the unusual late peak for berries should continue for several weeks with good volume and great quality. In early July, strawberry volumes were running about two weeks late because of cooler than normal weather in April.
Carolyn O'Donnell, spokeswoman for the California Strawberry Commission, Watsonville, said July 9 that the growers in Watsonville-Salinas and Oxnard areas harvested more than 5 million trays a week from April through June 21.
"We expect to have great numbers of strawberries available through the summer," she said. "The southern districts (Orange County and San Diego) have already exceeded what they did for all of 2007."
Strawberry acreage continues to climb in the state, from 34,642 acres in 2007 to 35,696, O'Donnell said.
Craig Moriyama, vice president of strawberry sales for the Salinas branch of Naturipe Berry Farms LLC, Naples, Fla., said the company's strawberry acreage has increased 10-20% over last year. Supplies and quality are good, but demand is down slightly, he said July 8.
"I think retailers are readjusting their inventories because they probably brought in extra before the holiday," he said. "We're at about the same levels as last year, though."
Valerie Sill, strawberry business manager for Driscoll Strawberry Associates Inc., Watsonville, said the company is talking to buyers to use strawberries to promote the overall produce section.
"We're reminding retailers and buyers how important berries are and they can maximize them as they're moving into more traditional summer fruit," she said. "We have a great spring with a lot of sales momentum. We're looking at strong supplies and great quality all the august."