Taps left running all day at coffee chain known for its 'green' philosophy
AN INTERNATIONAL coffee chain known for its environmentally friendly position has come under fire for wasting millions of litres of water every day by leaving taps running all the time in its outlets, including those in Singapore.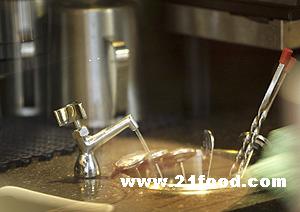 Coffee chain Starbucks, which has 10,000 cafes worldwide, was roundly criticised by environmentalists when British tabloid The Sun broke a story on Monday about its practice of leaving a tap running behind each service counter.
The constant flow of fresh water runs into a basin known as a dipper well, which is used for washing utensils.
Starbucks Coffee Singapore marketing manager Ruth Yam confirmed that it is the corporation's policy to use a dipper well at all its outlets, including the 57 in Singapore.
She said: 'It keeps utensils clean and prevents bacterial growth, ensuring we meet or exceed our own and local health standards.'
Criticism has been especially scathing because of Starbucks' support of the green movement, with its use of recycled packing materials and encouragement to customers to use tumblers instead of disposable cups.
Mr Peter Robinson, of British environmental charity Waste Watch, told The Sun: 'Leaving taps running all day is a shocking waste of precious water. And to claim you are doing it for health and safety reasons is bonkers.'
A check with other popular coffee chains showed that at least one other, Spinelli Coffee Company, uses the same system. The United States chain runs 33 outlets in Singapore, China and Indonesia.
Spinelli's master coffee roaster Ross Bright said that the constant running water in a dipper well clears away all milk residue and prevents bacterial growth.
He said that staff are instructed to turn the water off when the dipper well is not being used.
British water companies and environmental groups have called the practice 'wasteful' and 'unnecessary' as it reportedly leads to 23.4 million litres of water trickling down the drains every day at Starbucks outlets worldwide.
A spokesman for Singapore's National Environment Agency also noted that running water does not remove micro-organisms adhering to utensils, which should be washed with soap and water instead.
Starbucks' Ms Yam said that the company realises the issue needs 'immediate attention' and is looking for solutions to minimise water use while complying with food safety regulatory requirements.
Foochow Coffee Restaurant and Bar Merchants Association chairman Hong Poh Hin said it is not the practice here to leave taps on.
'If you want to make sure the utensils are cleaned thoroughly, after washing them with soap, you can soak them in a basin filled with water,' he said.
Singapore Environment Council executive director Howard Shaw called the use of the dipper well 'a most unsatisfactory practice'.
He said: 'Taps do not need to be left running all the time to prevent the accumulation of bacteria. Neither is it guaranteed that doing so will purge the bacteria from the pipes.'
Consumers agreed that leaving a tap on was wasteful but were not about to stop patronising Starbucks for that reason.
Public relations consultant Danny Tan, 25, said he had seen taps running at Chinese restaurants and hawker stalls but felt that Starbucks had come under criticism as it is a big corporation which preaches environmentally conscious behaviour.
He said: 'Starbucks is not practising what it preaches. But I choose to get my coffee there because it tastes good and not because it is environmentally friendly.'