Source: Ecns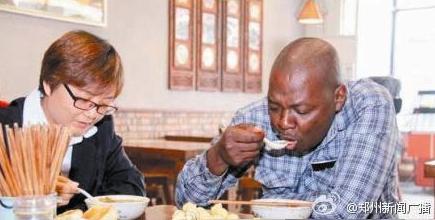 Zuma junior drinks pepper soup, a famous local dish, in Zhengzhou, China's Henan province on Saturday, Oct. 11, 2014. (Photo: Zhengzhou Radio News)
(ECNS) -- Lancelot Zuma, son of South African President Jacob Zuma, was spotted taking gulps of Pepper Soup in Zhengzhou, capital city of Henan province.
Zuma junior was photographed by quite a few diners in a restaurant near Huayuan and South Guangdian roads in downtown Zhengzhou on Saturday.
Pepper Soup is a famous local dish made from pork broth, several Chinese herbs, peppers and chili.
This is Zuma's second visit to the city concerning a residential real estate project in South Africa.
He said the yummy soup is a good appetizer in the morning. He used local dialect to describe the soup, calling it "zhong" (meaning "great").