Stepped into many lands, witnessed the beauty of world, faced the closed crisis, you will find Iran, a country filing with "Demonstrations", "terrorist attacks", "human bombs", "nuclear weapons" was nothing to be scared. It's topservice's second time to enter into this land with total three team leaders. We trust that every inch of the world is worthy for us to explore with courage.
No.1 Group of Topservice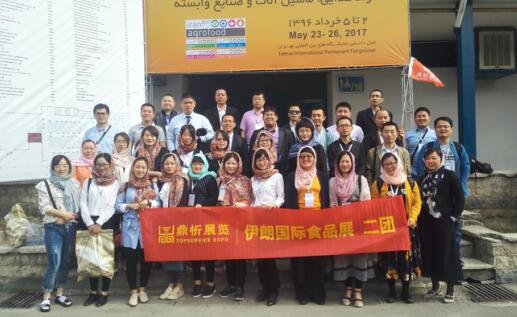 No.2 Group of Topservice
Actually I have left Iran several days when I start to write this article. I really don't know how to describe my whole business experience in Iran. My nerve was taken up by Tehran. Though just 4 hour time difference to China, but I still pretend there is jet leg. I can smell the savoury muttonchop when passing streets and lanes. It brought me to the scene when each person holding a string of lamb and enjoy the saffron rice. Alright, Iran is so amazing place, just as persia girl with wrapped gauze kerchiefs, the romance and exotic atmosphere come out from their beautiful eyes.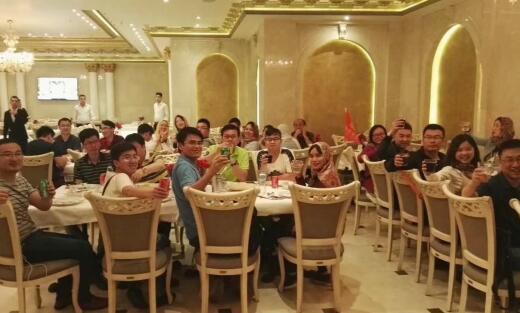 As China's biggest exhibition group, we set up from Beijing and Shanghai by both EK Airline and Air Mahan. Exhibitors can choose their convenient airline as we divide into four small teams and dispatch three leaders to service. 10 hours sleep in the airplane was passing soon. Air Mahan was comfortable and the most important it's the no-stop flight to Tehran.
We welcomed guide Ma when we arrived and dressed up with topservice's complementary gauze kerchiefs. The exhibitors could fell our meticulous and warmhearted service through all those travail things.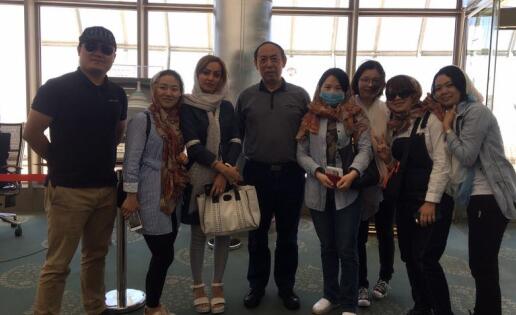 Topservice's seafood team
Topservice group checked in the most luxurious five star hotel Espinas in Iran which took up 15000sqm lands. You can view the whole Tehran by standing on the main entrance of the hotel. This is the best place for us to relax when finished the hard work every day.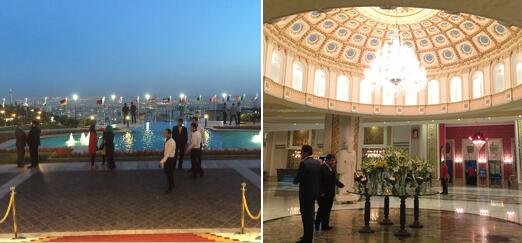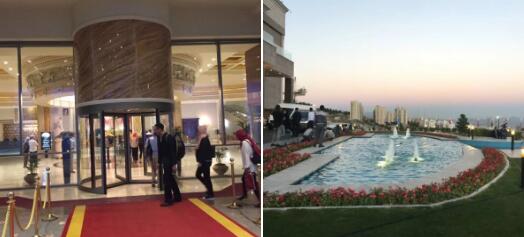 Iran Agrofood was opened on May 23rd 2017 in Tehran Permanent International Fairgrounds. It totally had 25 halls including 6-15,40,41,44 which Iran local exhibitors allocated here, and 18,20-22,38,38A/B which international exhibitors accumulated.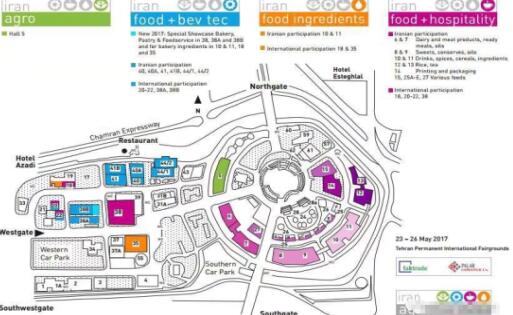 As USA and Europe lifted the economic sanction to Iran gradually, more and more countries aimed to this un-developed but potential market. Especially China exhibitors, compared with last year, the number had increased shockedly. China exhibitors were allocated in hall 18 at ingredients sctor, hall 38A at food & bev tec sector, hall 38 at food hospitality sector. As cooperated with fairtrade earlier, Topserivce have relative better allocation.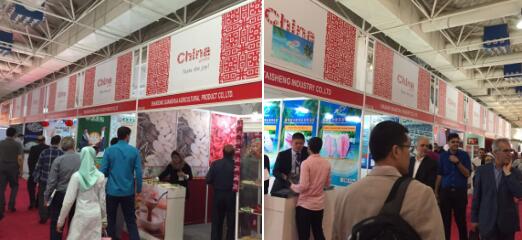 The exhibits were diversified compared with last year. Excluding the common seeds and nuts exhibitors, Topservice's seafood exhibitors were first year to attend. One of our clients told us, the export of Tilapia to Iran reached 1900 tons in the first quarter of this year just from their province.

Topservice have brought ingredients exhibitors footprints to the global famous professional ingredients exhibitions such as Fi serious show. This time, together with topservice, they came to Iran to find the potential of this land. They brought Citric acid, vegetable fat, essence, spice and other products which were used to bakery and drink industry. Food machinery and packaging exhibitors were surely the most fruitful this time. They were crowded each time when we passing through their stand.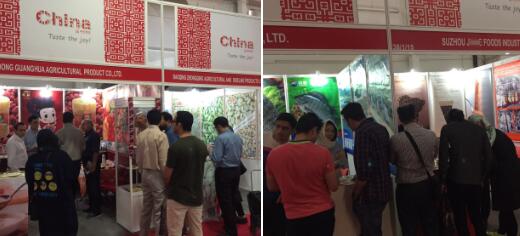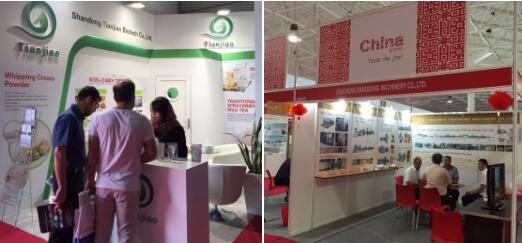 Our contractor from Dubai was also very cooperative. They gave their best response to handle each exhibitor's question.

Other country pavilion Italy, Germany, India, Sri lank also attend. The exhibition is really a veritable international show.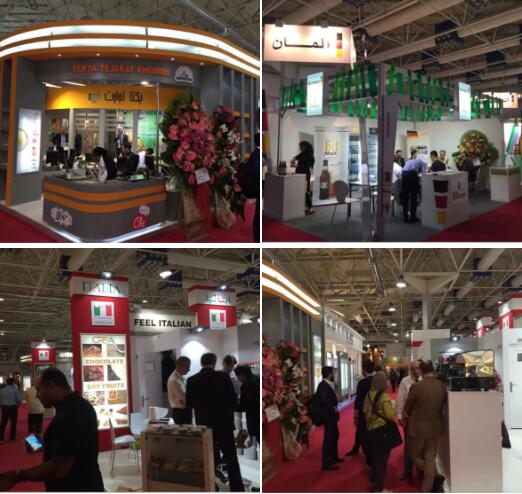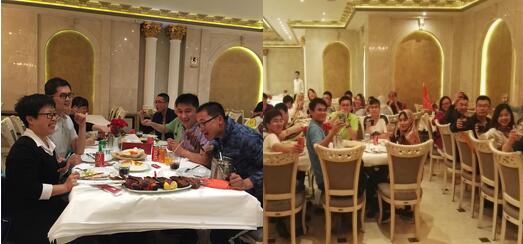 Laughers coming out when enjoying the local delicious food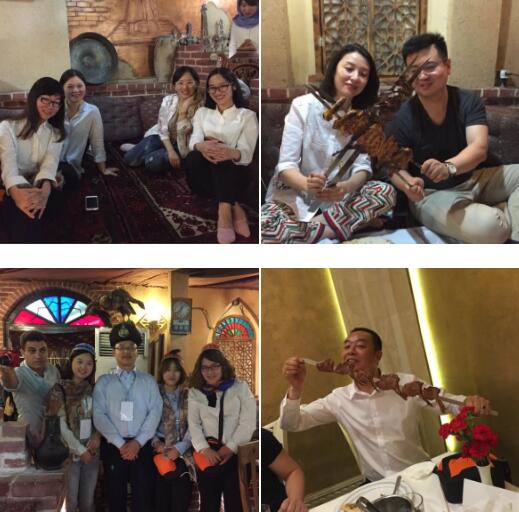 When exhibition finished, we arranged to enjoy the beautiful scenery of Iran, such as The Grand Palace, bazaar, supermarket, museum, mosque. Though time is short, we grasped every chance to let our client feel and better understand Tehran.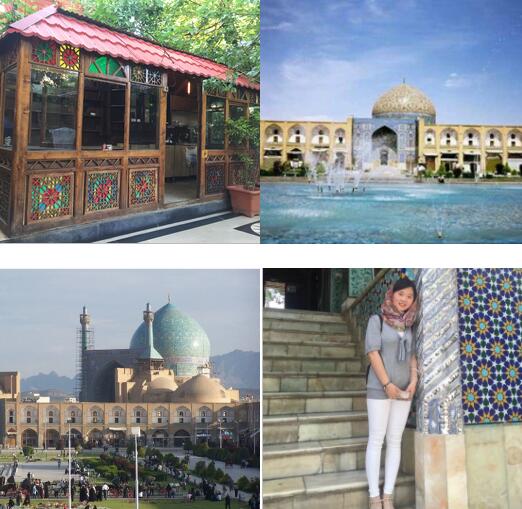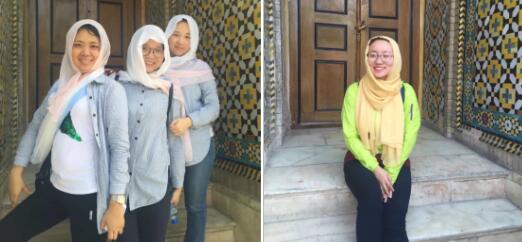 Iran gives us strong feeling in the shortly 7 days. You really can not understand it's a country which under though economic sanction. But the fact is that the domestic industry is basically paralyzed with high unemployment.USA and Europe can not help, mostly depend on China's strong manufacture ability. With the "one belt, one road" policy of Chairman Xi, China's bilateral trade with Iran will be better.

Iran is a golden land. One of our old exhibitor who also attend Iran Agrofood 2016. They told us they opened Kunlun Bank immediately when they back to China from Iran. Right now, they have already got some order. Sometimes, you just have one chance, and it only belongs to the one who really wants to be success even in dream.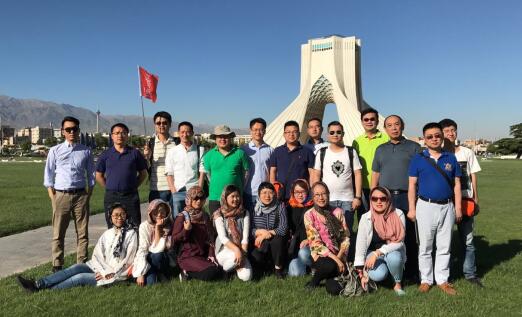 Iran Agrofood 2018 will be started to order soon. Pls consult us to know more if you are interest. Topserivce are always on your side!!!