Supplier Details
Malaysia
Mr.Sales Manager
604-26-20635
< 20
Manufacture
View the Seller's Store
Product Details
Company Profile
Item specifics
Product Name:

Beh Teh Saw

Product Origin:

Malaysia
Details
one bite into beh teh saw will send your senses in all directions. the gooey melted molasses combined with our famous sesame seeds are what make this pastry so 'yummy'. the flaky skin is achieved by kneading the dough in many layers.
packing size: box of 20 pieces individual strip-wrap (food-grade film) in 2 pieces/strip
ingredients: wheat flour, sugar, molasses, fried onion, lard and sesame seed.no artificial colours or preservatives added.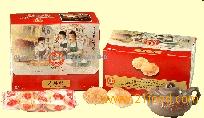 Send message to this supplier
Browse Hot Product By Alphabetically:
A
B
C
D
E
F
G
H
I
J
K
L
M
N
O
P
Q
R
S
T
U
V
W
X
Y
Z