Black Cardamom,Badi Elaichi
Supplier Details
India
Mr.Gaurang Thumar
91-99201-01121
< 20
Manufacture
Eastern Europe,Western Europe,
View the Seller's Store
Product Details
Company Profile
Item specifics
Product Name:

Black Cardamom,Badi Elaichi

Product Origin:

India
Details
Black Cardamom has a distinctly more astringent aroma, though not bitter, with coolness similar to mint, though with a different aroma. The fruit is 4 to 6 times size of small cardamom. There are many distinct species of black cardamom, ranging in pod size from 2 cm to more than 5 cm with different tastes. Large cardamom is the dried fruit of a perennial herbaceous plant and its quality characteristics are different from that of small cardamom. The seeds have sweetish, smokey flavor when bitten into. Black cardamom is found India the main origin is west Bengal.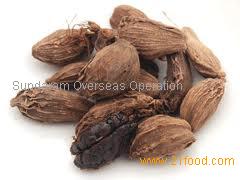 Send message to this supplier
Browse Hot Product By Alphabetically:
A
B
C
D
E
F
G
H
I
J
K
L
M
N
O
P
Q
R
S
T
U
V
W
X
Y
Z