Borojo Tropical, Colombian fruit Pulp
Supplier Details
Colombia
Mr.Mr. Reynel Millan
57-2-6648310
11 - 50 People
Manufacturer
View the Seller's Store
Product Details
Company Profile
Item specifics
Product Name:

Borojo Tropical, Colombian fruit Pulp

Product Origin:

Colombia

Brand Name:

Borojo Tropical
Details
exotic colombian fruit, rich content of nutrients, in pulp and jam
we produce fruit pulp and other fruit derivatives for the industry and consumer. all our products are 100% natural with no conservatives or sugar added.
as colombia is located in the tropics, we are specialized in
tropical fruits
like: mango, passion fruit, borojp tamarind, soursop, lime, tree tomato, papaya, lulo, guava,
coconut
and others. we also produce less tropical fruits like: mandarin, blackberry, noni, mamey among others.
packaging:

can (tinned)

type:

coconut

place of origin:

colombia

brand name:

borojo tropical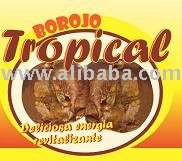 Send message to this supplier
Browse Hot Product By Alphabetically:
A
B
C
D
E
F
G
H
I
J
K
L
M
N
O
P
Q
R
S
T
U
V
W
X
Y
Z