Supplier Details
Finland
Mr.Lyer Immonen
358-466-155806
US$2.5 Million - US$5 Million
< 20
Manufacture & Trade
North America,South America,Eastern Euro...
View the Seller's Store
Product Details
Company Profile
Item specifics
Product Name:

Butter Beans

Product Origin:

Finland
Details
butter beans(white kidney beans flat)
size:50-60pcs/100g
moistrue:16%max
admixture:0.2%max
imperfect:3.0%max
specification of butter beans

2013

(dry white beans large size)

1. origin:

finland


2. crop:

2013

3. quality:

grade one

4. specifications:

size 50-60pcs/100g

moisture 16% max;

admixture 0.2% max;

imperfect:2% max;

5. international certificates

phytosanitary certificate issued by ciq.

quality certificate issued by ciq.

certificate of origin

and other certificates you request.
basic characteristics
large white beans typically white or cream colored, and are flat and slightly curved in shape. they typically measure between 0.25 and 1 inch (approximately 0.6 to 2.5 cm) in length. some varieties are speckled with brown or deep purple spots, though most of the time these color aberrations are limited to home-grown varieties the vast majority of commercially-available beans are uniformly cream colored.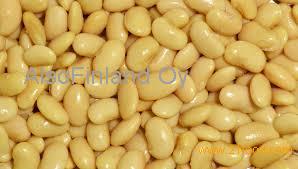 Send message to this supplier
Browse Hot Product By Alphabetically:
A
B
C
D
E
F
G
H
I
J
K
L
M
N
O
P
Q
R
S
T
U
V
W
X
Y
Z