Supplier Details
Malaysia
Ms.Mr. wilson
60-17-2373620
Manufacture
View the Seller's Store
Product Details
Company Profile
Item specifics
Product Name:

eucheuma cottonii

Product Origin:

Malaysia

PriceTerms:

Negotiable

Supply Ability:

30 Ton Per Day
Details
detailed introduction to eucheuma cottonii:

mass field cultivation of eucheuma cottonii in semporna was assessed by the university of sabah. thalli fragments were tied to sand-filled polyethylene tubes to form 120-m2 stands, on a shallow (35 m depth) sandy marine bottom with an underlying sandstone substratum. short-term (45 days) thalli growth and resistance to wave action were evaluated on both stands, and the behaviour of these artificial beds was compared with that of a small undisturbed seabed.
following the successful assessment, full cultivation began. the outcome is a high quality organic seaweed with a sustainable yield, ready for export.
further details available on request, price is negotiable based on order quantity.
sand displacement and surfacing of the sandstone substratum due to moderate water turbulence caused a continual decline of the natural bed, but had no apparent effect on the artificial beds. biomass increment in these plantations was 26002800% (fresh weight) in a 6-month period. intense water turbulence at the end of this period had a significantly less destructive effect on the experimental and pilot beds planted with sand-filled tubes.
three years after the establishment of the pilot bed, natural recolonization had increased its area four-fold, in spite of intense and uncontrolled harvesting during the last year. this behaviour was attributed to the generation of a dense underground thalli system in this bed, due to the strong attachment provided by the sand-filled tubes. at this time (july 1985) underground biomass doubled the standing stock.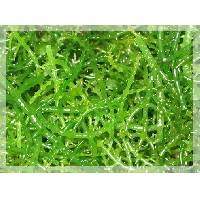 Send message to this supplier
Browse Hot Product By Alphabetically:
A
B
C
D
E
F
G
H
I
J
K
L
M
N
O
P
Q
R
S
T
U
V
W
X
Y
Z