Goraka (Garcinia quaesita Pierre) spices
Mr.Mr. galgodage suresha lakmal
Supplier Details
Sri Lanka
Mr.Mr. galgodage suresha lakmal
94-112-930773
5 - 10 People
Other
View the Seller's Store
Product Details
Company Profile
Item specifics
Product Name:

Goraka (Garcinia quaesita Pierre) spices

Product Origin:

Sri Lanka

PriceTerms:

US $1,500 - 1,550 / Box

Supply Ability:

100 Kilogram/Kilograms per Quarter
Details
goraka is used to cook fish, meat and vegetable.
goraka is used to cook fish, meat and vegetable.
goraka becomming popular species in the world becouse of its potential as a dietary supplement for weight losses and appetite control.
its rich in acids and possesses marked antiseptic properties. it contains tartaric acid (10.6%), reducing sugar as glucose (15%), and phosphoric acid as calcium triphosphate.
the ring of goraka also contain 16-30% of hydroxyl citric acid (hca). it is reported that hca competes in the metabolism of citric acid, as substrate for citric acid lyase, inhibiting the synthesis of fatty acid.
further reports indicate that hca stops the conversion of excess glucose into fat and cholestrol by blocking the enzyme required for the conversion. further hca reduce the production of lipids in the liver , small intestine and adipocytes. it also results in and increase in low-density lipoprotein(ldl) receptor activity in liver cells that can pull ldl cholesterol out of circulation. this is key factor in weight control and reduction of obesity using goraka's hca as an antagonist to citric acid.
several ayurvedic medicine have been developed by goraka.
large quantity(more than 5kg to below 10 kg) available with good price.
type:

goraka (garcinia quaesita pierre)

style:

dried

certification:

fda

color:

black

place of origin:

sri lanka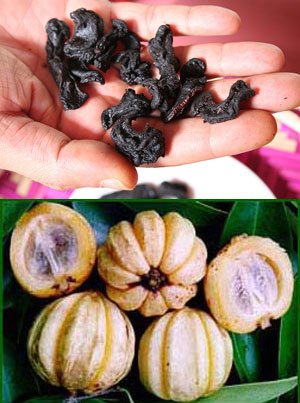 Send message to this supplier
Browse Hot Product By Alphabetically:
A
B
C
D
E
F
G
H
I
J
K
L
M
N
O
P
Q
R
S
T
U
V
W
X
Y
Z