Supplier Details
Singapore
Mr.Mr. Sir or Madam
65-65 6732 81-
Trading Company
View the Seller's Store
Product Details
Company Profile
Item specifics
Details
laksa (thick rice noodle in spicy coconut soup)
laksa (thick rice noodle in spicy coconut soup)
ingredients:
laksa paste
6 long dried red chilies
8 shallots, coarsely chopped
5 candlenuts
5gm fresh galangal, peeled coarsely chopped
2 stems lemon grass, pale selection only, coarsely chopped
50ml peanut oil
30gm fresh turmeric, finely grated
15gm shrimp paste
1 garlic clove, coarsely chopped

laksa condiments
600gm thick rice noodle
100gm bean sprout
10gm laksa leaves, thinly sliced
8 fish balls
8 tau poks (tofu puffs)

other
20ml corn oil
750ml chicken stock
200ml kara coconut cream
method:

laksa paste

boil the dried chilli till soft, drain and chop them coarsely.
place the chopped chillies, shallots, galangal, lemon grass, peanut oil, tumeric, shrimp paste, and garlic cloves into a food processor and grind until fine.

laksa soup

heat up the pot with corn oil for 3 minutes, stir fry the laksa paste and add in chicken stock.
fold in kara coconut cream to make laksa soup. leave the soup to simmer for 3 to 5 mins.
blanch the noodle in boiling water for a few minutes, drain and divide between bowls. pour in soup.
present as shown in the picture.

style:

instant

taste:

spicy

texture:

soft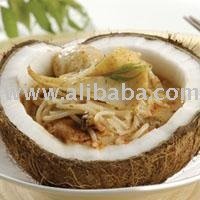 Send message to this supplier
Browse Hot Product By Alphabetically:
A
B
C
D
E
F
G
H
I
J
K
L
M
N
O
P
Q
R
S
T
U
V
W
X
Y
Z