Mahua Flower
Native Vegetables
Price can be negotiated
200MT/MONTH
T/T, WESTERN UNION
2015-07-07 08:16:00.0
Supplier Details
South Africa
Mr.Allan Michalowsky
27-11-6816018
US$2.5 Million - US$5 Million
100 ~ 500
Trade & Service & Organization
North America,South America,Eastern Euro...
View the Seller's Store
Product Details
Company Profile
Item specifics
Model No.:

MF823

Product Name:

Mahua Flower

Product Origin:

SOUTH AFRICA

Standard:

GRADE 1

Brand Name:

Mahua Flower

PriceTerms:

T/T, WESTERN UNION

Supply Ability:

200MT/MONTH
Details
Mahua Flower
Uses:
1. Madhuca fat is satisfactory for production of washing soaps.
2. Seed Oil is used as ointment, in rheumatism and to prevent cracks in the skin in winter. It is used for edible purposes culinary, hair oil, illumination, lighting, keeps body glossy and warm.
3. Madhuca cake can be used as cheap organic manure and possess insecticide property. Also used with shikaki for hair-wash.
4. The flowers are used as vegetable, for making vinegar. Flower juice is used in the treatment of enlargement of axillary grand, neurotic disorder and taken with cow's milk in cough and bronchitis.
5. Seed paste is applied to curve muscle fatigue and relieve pain in the muscle and joints to improve the texture and vigor of skin.
6. Bark decoction is used in curing bleeding gums and ulcers. Madhuca oil extracted from the seeds has laxative properties. It helps cure piles by relieving chronic constipation. The leaves of Madhuca are effective in the treatment of eczema.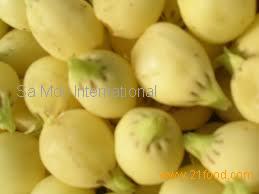 Send message to this supplier
Browse Hot Product By Alphabetically:
A
B
C
D
E
F
G
H
I
J
K
L
M
N
O
P
Q
R
S
T
U
V
W
X
Y
Z