Pears
Dried Fruits
Argentina,South Africa
Supplier Details
United States
Mr.Anita Benech
001-914-683-1119
< 20
Trade
View the Seller's Store
Product Details
Company Profile
Item specifics
Product Name:

Pears

Product Origin:

Argentina,South Africa
Details
origin:
argentina & south africa
description:
pears are picked prior to full maturity when the fruit is still hard and green. if allowed to ripen fully on the tree, the interior portions of the fruit turn brown, begin to break down and become mealy in texture. bartlett pears ripen from light green to golden yellow in color, and are dried as halves in a variety of sizes. dried pears supply a range of nutrients and vitamins, including potassium, phosphorus and magnesium; medicinally, they are diuretic and mildly laxative as well.
pears like apples have a good storage life. however, their fresh market expansion has been limited as they must be allowed to ripen and soften to develop their full flavor. dried pears offer an excellent alternative to fresh, by providing fruit with good color and taste throughout the year. the range of sizes allows incorporation in fruit mixes and snacks, or as high quality fruit gift selections. bedemco supplies only the best quality dried pears available at the most competitive prices for all sizes, and works with manufacturers to encourage the use of dried pears in a variety of new, healthful food products.
harvest:
argentina and south africa both harvest pears in the spring, with new crop dried fruit coming to market in early summer.
types:
halves
diced
industrial
sizes:
jumbo, extra fancy & extra choice
packing:
bulk packing ? net weight 25 lb. cartons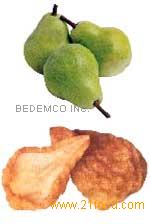 Send message to this supplier
Browse Hot Product By Alphabetically:
A
B
C
D
E
F
G
H
I
J
K
L
M
N
O
P
Q
R
S
T
U
V
W
X
Y
Z