Potato Chips Line
Dehydrated Vegetables
Germany
Supplier Details
Germany
Ms.Mr. Flick
49-4405-92550
Manufacture
View the Seller's Store
Product Details
Company Profile
Item specifics
Model No.:

300-2000 kg/h

Product Name:

Potato Chips Line

Product Origin:

Germany

Brand Name:

Potato Chips

PriceTerms:

Negotiable
Details
detailed introduction to potato chips line:

the market for snack items opens even more interesting possibilities. ever new products, different in taste and shape, demand individually designed machines and innovative developments for your production line.
especially very thin chips require a very effective fat fryer with an efficient filter system. eima uses a very elaborate oil filtering system, which will maintain the proceeds at a high level. the result is a production of consistent chips with less oil usage.
the snack pellet line is ideally suited as starter line. a relative small investment lets you produce very interesting products. the turnkey system is delivered to your facility and only handed over to you, once you accept the good taste of your product.
your eima advantages:
- well-engineered process technology
- fat fryer with oil filter
- snack pellet line ideally suited as starter line
the capacities of the potato chips line are 300, 500, 1000, 1500, 2000 kg/h.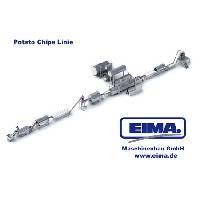 Send message to this supplier
Browse Hot Product By Alphabetically:
A
B
C
D
E
F
G
H
I
J
K
L
M
N
O
P
Q
R
S
T
U
V
W
X
Y
Z