Purple Sweet Potato Color
Supplier Details
China
Ms.Hellen Chen
86-0714-3286909
< 20
Manufacture
View the Seller's Store
Product Details
Company Profile
Item specifics
Product Name:

Purple Sweet Potato Color

Product Origin:

China
Details
[source]:derived from the infused and refined purple tuberous root of purple sweet potato which is an ipomoea.
[chemical composition]:anthocyanosides and flavonoids ect.
[properties]:red-mauve powder and liquid with slight characteristic odor;soluble in
water and ethanol water,insoluble in grease;its acid water solution is table,with red and mauve colors;its neutral water solution is indigo;its alkaline solution is blue;resistant to light and heat.
[application]:
coloring agent(mauve).
mainly used in the coloring or color compensation

for foodstuff like cakes,salted products,fruit jam,maltose products and fruit wine and juice ect.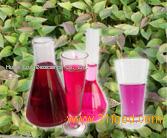 Send message to this supplier
Browse Hot Product By Alphabetically:
A
B
C
D
E
F
G
H
I
J
K
L
M
N
O
P
Q
R
S
T
U
V
W
X
Y
Z