Supplier Details
Germany
Mr.Sales Manager
49(0)-2865-602-102
< 20
Manufacture
View the Seller's Store
Product Details
Company Profile
Item specifics
Details
1. automatic cleaning system on fc models. the automatic cleaning system of the rofry includes cleaning of all parts. manual handling is reduced to a minimum. the advantages are: excellent cleaning results day by day, increased operational hours as all breakdowns caused by insufficient cleaning are eliminated, choice of permanent water connection or independent stand-alone version on tv models. environmentally friendly because of low water (<25ltr.) and detergent consumption; 5 cleaning programs allow to adjust the program to the degree of dirt, allows for fast intermediate cleaning cycles during operation hours.

2. computer controls. as a new feature the computer controls are situated behind an easy to clean glass cover. the computer of the new rofry? supports and controls: the automatic cleaning system, programming of all frying programs, and the automatic holding phase.

3. higher production rates. the frying basket has more volume and the production capability of the rofry? has been increased. now 2.5kg of french fries can be processed in one charge.

4. better food quality. better quality results come from: a better equalizing of parameters relevant to frying, a more uniform browning of the products, a more gentle processing based on delayed rotation start and possible interval rotation. a faster climate change between steam and roasting phase contributes to better product quality as does the preheated dry air blown into the processing chamber.

5. decreased emmissions. operating noise has been reduced to a minimum, because of a combination of changed air guidance and less noisy components such as motors and fans. less engery consumption due to improved insulation, sealing of the door, and air guidance.

6. design. the complete desing of the unit has been remodelled. the new rofry is attractive and adds styling to every front cooking area. the inner chamber has round edges and offers many improved details of the air guiding plates and other engineering aspects.

7. results. shorter frying times, higher production capacity, lower energy costs, easier handling, less labour costs, better frying results and a fully automatic cleaning programme.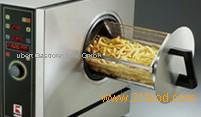 Send message to this supplier
Browse Hot Product By Alphabetically:
A
B
C
D
E
F
G
H
I
J
K
L
M
N
O
P
Q
R
S
T
U
V
W
X
Y
Z