seasonal canned green asparagus in jar
Canned Vegetables
Price can be negotiated
1000
Paypal , Skrill TT WU
2018-01-17 22:21:00.0
Supplier Details
South Africa
Mr.Lekeleke Vincent
27-81-0637215
Below US$1 Million
Trade
North America,South America,Eastern Euro...
View the Seller's Store
Product Details
Company Profile
Item specifics
Model No.:

LV-8252012

Product Name:

seasonal canned green asparagus in jar

Product Origin:

South Africa

Standard:

premium quality

PriceTerms:

Paypal , Skrill TT WU

Supply Ability:

1000
Details
Canned asparagus
1. Fresh green asparagus as raw material.

2. Different kinds and tastes to meet personalized needs.

3. High quality and best service for you.

We can provide different types of canned white asparagus and other canned vegetables like beans, green peas, asparagus, bamboo shoot, etc.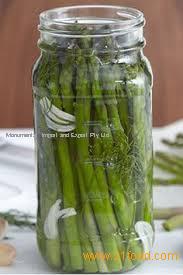 Send message to this supplier
Browse Hot Product By Alphabetically:
A
B
C
D
E
F
G
H
I
J
K
L
M
N
O
P
Q
R
S
T
U
V
W
X
Y
Z