Supplier Details
South Africa
Mr.Lekeleke Vincent
27-81-0637215
Below US$1 Million
Trade
North America,South America,Eastern Euro...
View the Seller's Store
Product Details
Company Profile
Item specifics
Model No.:

LV-8278142

Product Name:

Tahini

Product Origin:

South Africa

Standard:

premium quality

PriceTerms:

Paypal , Skrill TT WU

Supply Ability:

1000
Details
tahini
category: sundry health lines
traditional sesame butter. used in sauces, dressings and spreads. the primary ingredient in hummus.
tahini is a `nut-butter made from sesame seeds. it is a favourite in the middle east and is used in traditional dishes, cookies, cakes, sweets and spreads.
tahini combines excellently with garlic, lemon juice, soya sauce, barley malt syrup, yoghurt, honey, buttermilk, orange juice and fresh herbs to form a variety of dressings and sauces.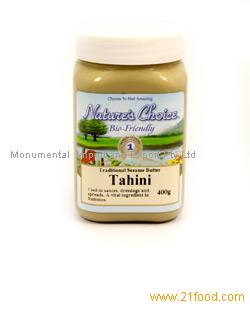 Send message to this supplier
Browse Hot Product By Alphabetically:
A
B
C
D
E
F
G
H
I
J
K
L
M
N
O
P
Q
R
S
T
U
V
W
X
Y
Z