Supplier Details
United States
Mr.Rajan Kapoor
212-.725.-0679
Manufacture & Trade
View the Seller's Store
Product Details
Company Profile
Item specifics
Product Name:

Tata Tea Premium

Product Origin:

US
Details
tata tea premium
the promise of freshness
tata tea brands ------------------------------- tata tea premium tata tea gold tata tea agni kanan devan gemini chakra gold temptation tetley
tata tea, the flagship brand of our company, was launched in 1987. the brand promises a cup of tea that gives 'asli taazgi' (real freshness) to the consumer. tata tea used tea leaves picked from our own gardens, packed then and there at the gardens, thus sealing in the real freshness of the gardens. the 'bagano ki taazgi' (garden freshness) proposition appealed greatly to our consumers and made our brand a huge success.
tata tea still maintains and delivers on its promise of bringing a refreshing cup of tea to the consumer, from the choicest tea leaves.
real freshness, real fun
through the years tata tea has managed to communicate the freshness that it promises through the pep and zeal of its advertising campaigns. catchy ad lines and memorable jingles have always been the hallmark of our communication with the consumers. in 2000, tata tea has successfully positioned itself on the 'asli taazgi, asli mazaa' (real freshness, real fun) platform.
freshness in a new pack
in 1999 tata tea changed its pack to make it more youthful and vibrant and launched the green polypack that it is currently available in. tata tea is sold in both the leaf and dust variants. the dust variant is sold in red polypacks in some regions. it is retailed in 1 kg jars, 500 and 250 gm jars/polypacks, 100gm, 50gm, 25gm and 1 re polypacks.
tata tea - where it stands today
the target group for tata tea cuts across all socio enonomic classes. high quality product offering at reasonable prices coupled with an effective communication strategy with the consumer has won the brand several thousand loyalists across the country. little wonder then, that tata tea is today the single largest national tea brand in the country with a market share of 7% (org marg retail audit). the brand itself has managed to stay contemporary and relevant through continuous efforts to rejuvenate it. this is corroborated by the annual 'brand equity' study of the 'most admired' brands in the country which ranks tata tea first among all tea brands and 30th over all, across all categories.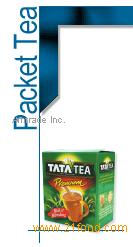 Send message to this supplier
Browse Hot Product By Alphabetically:
A
B
C
D
E
F
G
H
I
J
K
L
M
N
O
P
Q
R
S
T
U
V
W
X
Y
Z