Supplier Details
United States
Mr.Mr. Joe Banos
1-770-249
Other
View the Seller's Store
Product Details
Company Profile
Item specifics
Product Name:

YELLOW CORN GRADE # 2
Details
corn-p1.html" style="text-decoration:underline;font-weight:bold;" target='_blank'>yellow corn grade no.2
procedures: ( the procedures are not negotiable)
buyer issues a (loi or icpo)

with soft probe & bank endorsed.

seller issues fco (full corporate offer).

buyer sign seal and return the fco and send mt 999 for bank of seller.

seller issues draft contract.

buyer sign seal and return the contract, seller sign the contract and return to the buyer.

buyer and seller deposit a copy of the executed contract to their respective banks.

within 3 (three) banking days, buyer bank sends a non-operative sblc or bg for total negotiation value to the sellers bank.

within 48 hours seller's bank sends proof of products (pop) + pb 2% via swift bank to bank methods to the buyers bank.

instrument of payment is operative.

shipment commences as per the terms of the contract schedule.
note: we do not work of the buyers procedures. a buyer must agree to accept and follow the sellers procedures. the sellers will not alter their procedures.
type:

corn

product::

yellow corn grade # 2

product origen::

100 % brazil (south america)

packing::

in bulk

minimun order::

12.500 mt

delivery terms::

contract: cif/aswp__spot and c...

performance bond::

performance bond cannot be m...

inspection::

inspection by s.g.s at loading por...

pop::

bank to bank, according with the procedur...

payment terms::

sblc/bg/dcl/mt103/23

important note::

the fco will be sent after rec...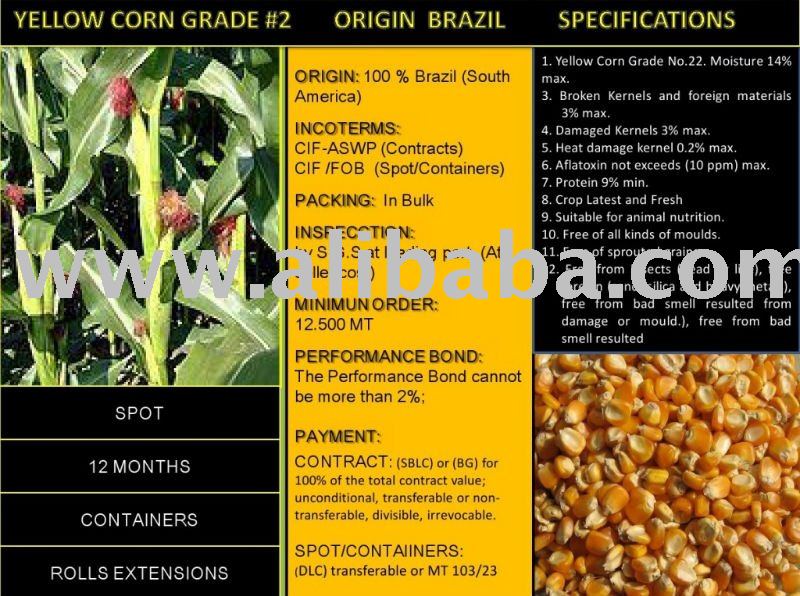 Send message to this supplier
Browse Hot Product By Alphabetically:
A
B
C
D
E
F
G
H
I
J
K
L
M
N
O
P
Q
R
S
T
U
V
W
X
Y
Z