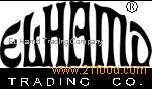 EL HAMD TRADING CO.
Established in 1989 by Mr. Khaled Hamdy, and is located in Cairo, Egypt. We are specialized in exporting and importing a variety of Crops from, Nuts, Beans, Spices, Coffee, Seeds & Medical Herbs. We have vast expertise in this field. We endeavor to establish business and personal relations with both of our clients made them express their trust which we dearly cherish.
Mr. Khaled Hamdy, the founder and managing director of Elhamd Trading Co. is a
1-Board Member of :

E

gyptian

-

Indonesian Business Council.
2-Member # 33073 of :German-Arab Chamber of Industry And Commercial.
3-Member of :Agricultural Export Council.
4-Member # E-270-CL-EG of :Industrial Modernization Center (IMC).
5-Member # 22 of :Egyptian Chamber of Food Industrial

.
* El Hamd Trading Company (Mother Company)
* El Hamd Trading for Export & Import.
* El Hamd Trading for food packing company.
* El Hamd Trading for Management systems (QMS)
Basic Information

Main Products:
Hibiscus flower,Chamomile flower,caraway seeds,fennel seeds,pulses,water melon seeds,rice,Anise seeds,Molokai leaves,marjoram,Basil,Dill,pepper mint and spearmint white kidney beansM
Company Type:
Manufacture & Trade
Business Range:
Bean Products , Food Packaging , Nuts & Kernels , Others , Rice & Grains , Spices & Seasonings , Sugar & Sweeteners ,
Number of Employees:
< 20
Established Year:
1989
Main Markets:
Products
Company Name :
EL Hamd Trading Company
Address :
8 Misr El Tamir Building , Sheraton Helioplis Building Region 1 Flat 1
Cairo Heliopolis Egypt
Tel :

20- 2- 22681203

Mobile Phone :

+2010 988 88 33

Skype Name :

hamdytrd

Fax :

20- 2- 22680688

Website :
Contact Person :
Khaled Hamdy