General Information

Co-organizers:
Chinese Cereals And Oils Association
China National Association of Grain Sector Rice Branch
Guangdong National Association of Grain Sector
Supporters:
Guangxi Grain Industry Association
Guangxi Rice Industry Union
Guangxi National Association of Grain Sector
Liaoning National Association of Grain Sector
Jilin National Association of Grain Sector
Yongxiu Agriculture Rural Authority
Government of Quanzhou County
2020 Preview:


Exhibition Introduction:
Exhibition Area: 50,000
Exhibitors: 1,203
Visitor Entries: 81,507
Exhibiting Countries: 41
Special Events: 48
Renowned Brands:
--A large gathering of more than 1,500 brands and 45 countries, which will connect you easily with industrial counterparts
--Telemarketing and email campaigns to 350,000 database such as agriculture products distributors, agents, traders and hotels
to ensure you a sufficient amount of leads
--One-to-one business matching with VIP buyers will help to get quality leads and close the deal efficiently
--Cooperation with more than 300 professional media and over 100 mass media will help to spread the exhibition and your
products widely in China
--More than 40 conferences and special activities to keep you updated of the latest industry information, regulations and
development trends in China
Conferences and Special Events:

Exhibits Categories:
Rice Product:
Rice, seeds rice, brand, secure rice, fortified rice, organic rice, green rice, pollution-free rice, rice foods, instant rice, rice, rice protein, rice sugar oil, dietary fiber etc.
Cereals:
Sorghum, millet, buckwheat, oats, barley, triticale, mung beans, red beans, kidney beans, black beans, broad beans, chickpeas, especially corn, barley, sesame, flax, potatoes, organic grains
Rice Made Product:
Rice flour, flour products, instant noodles, corn, and corn deep processing products.
Rice Restore Packaging Equipment:
Storage equipment, packaging equipment, inspection equipment, rice processing equipment,
security grain storage systems.
Stand Prices and Facilities: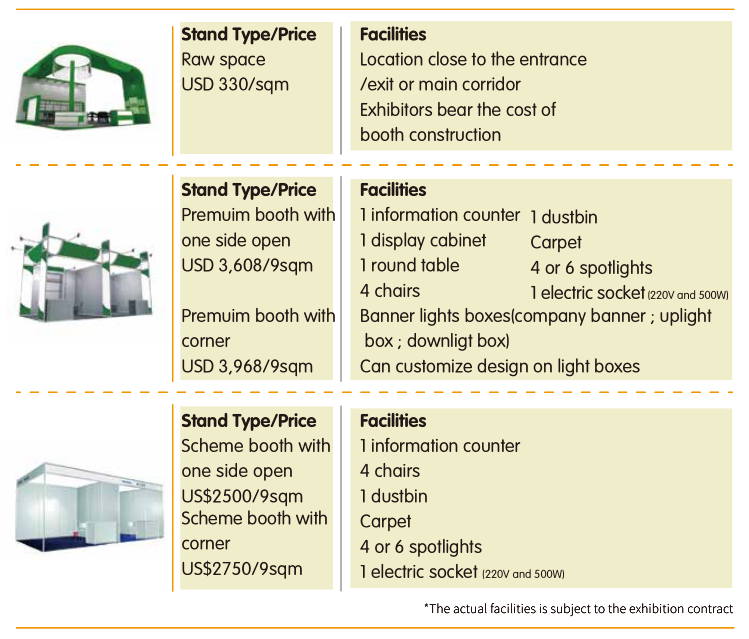 Sponsorship:
Catalogue Advertisement:
Front cover USD4,600
The second front cover USD2,000
The third front cover USD2,100
Inside color page USD1,000
Other Advertisement:
Exhibitor badge(single page) USD5,000/per Color printing
Visitor badge(single page) USD8,400/per Color printing
Gift bag(single color printing) USD3,400/5THS Total 30THS
Visiting Ticket Back Adv.(single page) USD850/10THS Total 300THS
Visiting invitation letter (back cover) USD1,650/10THS Total 50THS
Visitors/Exhibitors Badge Rope Adv.(Logo Single Face)
Product Introduction Meeting:
Exhibitors USD1,800/Session(30 mins)
Non-Exhibitors USD3,600/Session(30 mins)
Appoint hours should be charged USD1,000