The Nam Viet Foods & Beverage JSC is 100% Vietnamese owned with 25 years of experience in the beverage field for local markets and the processing of goods for exporting companies in Vietnam. In the second quarter of 2016 the owner of Nam Viet F&B decided to expand to markets worldwide and rapidly conquer the trust of our clients from the first order through quality control, fast delivery and most importantly our main goal to service client accounts after sale and client satisfaction.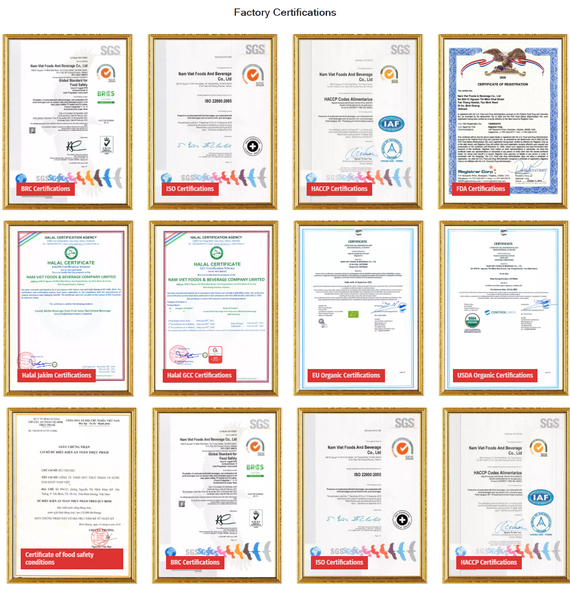 Nam Viet F&B began with the desire to introduce Vietnamese beverages throughout the world. As you may know, Vietnam is located in a tropical environment with the initial advantage of easy access to tropical fruits such as coconut, dragon fruit, mango, papaya, pomelo, kumquat, longan, pineapple, coffee, aloe Vera, vegetable, soya and cereals, etc. therefore we have all the available natural resources of the highest quality found here within our tropical borders. All of these natural resources are processed in our factory to create the tastiest, nutritional and natural beverages.
Nam Viet F&B has invested in the latest, most modern, up to date technologies and equipment in the food and beverage industry. Our production lines are completely automated from start to finish. We have been certified by the ISO, HACCP, FDA, Halal etc., and meet the quality standards of such diverse markets as the USA, UK, Australia, New Zealand, Colombia, Russia, Japan, Singapore, Malaysia, Iraq, Iran, UAE, Qatar and many other geographical regions. We have internationally trained Vietnamese staffs in all departments from sales, research & development, production, quality control and labor with years of food and beverage experience in both Vietnamese and international markets.
Nam Viet F&B is committed to bringing our clients the most amazing and fantastic natural beverages including coconut water, tropical fruit juices, aloe vera, coffee drinks, basil seed drinks, chia seed drinks milk products and cereal drinks. In addition we also offer supporting beverages such as vitamin enhanced drinks, tonic drinks and energy drinks to enhance and replenish your thirst needs quickly. Our research and development team can also assist you in the development of your own formulas.
Our motto is Free Samples - Free Design - Small MOQ - Fast Delivery - High Quality! We are seeking to co-operate with our clients for stable and profitable future growth! Let's work together and realize our future!
https://vinut.com.vn/
more