hot sale canned tuna in oil 25g vegetable oil

| | | | | |
| --- | --- | --- | --- | --- |
| canned tuna in oil | N.W.(G) | D.W. (G) | CTNS/20'FCL | Note |
| canned tuna in oil (50% oil) | 170g*48 | 120g | 1850CTNS | 70% chunk+ 30% flake |
| canned tuna in oil (50% oil) | 170g*48 | 120g | 1850CTNS | 50% chunk+ 50% flake |
| canned tuna in oil (50% oil) | 185g*48 | 120g | 1800CTNS | 70% chunk+ 30% flake |
| canned tuna in oil (50% oil) | 185g*48 | 120g | 1800CTNS | 50% chunk+ 50% flake |
| canned tuna in oil | 1000g*12 | 650g | 1438CTNS | 70% chunk+ 30% flake |
| canned tuna in oil | 1880g*6 | 1600g | 1600CTNS | 70% chunk+ 30% flake |


| | |
| --- | --- |
| Prouduct Name | chunk canned tuna in 25g vegetable oil hot sale canned tuna in oil |
| MOQ | 1 * 20'FCL |
| Payment | T/T,L/C,D/P etc,. |
| Supply Capacity | 25 * 20'FCL |
| Shelf Time | 36 months |
| Delivery Time | about 3 weeks after order confirmation |
| Port | Xiamen,China |
| Brand Name | Yours |


chunk canned tuna in 25g vegetable oil hot sale canned tuna in oil
FAQ:
--How to store the canned tuna in oil?
--Carefully label all home canned or commercially canned food containers. We recommend labeling purchase date (month & year) on can lid with marker. Store all canned food in cool, dark, dry space away from furnaces, pipes, and places where temperatures change like un-insulated attics. Do not allow sealed cans or glass jars to freeze.Freezing changes food textures, and leads to rust, bursting cans, and broken seals that may let in harmful bacteria. Always store metal cans off of the floor, especially bare concrete. Moisture can wick up to cans and encourage rusting.
--What is the shelf life of canned tuna in oil?
--As a general rule, unopened home Canned Foods have a shelf life of one year and should be used before 2 years. Commercially canned foods should retain their best quality until the expiration code date on the can. This date is usually 2-5 years from the manufacture date.
--What should we take care before we open the canned tuna in oil?
--Always use FIFO ( First-in, first-out ), meaning use your oldest cans first. Before opening, discard any badly dented, bulging, rusty, or leaky cans or jars that have broken seals. Open cans or jars to view and smell contents. When opening, discard any can that spurts. Discard contents (do not taste) if there is a strange odor or appearance.

KINGFOOD is a trade company located in xiamen,China.It offer variety tin food including canned tuna,canned mackerel,canned sardines,canned sweet corn etc,.Working in line with the market principle "Credit First,Quality First", our tin food enjoy high reputation among worldwide and domestic clients due to the high quality and competitive price.
Advantages:
1.there are more than 10 factories which we have build long-term relationship with.
2.payment terms is flexible.
3.mix container is acceptable.
4.sample free with freight collect.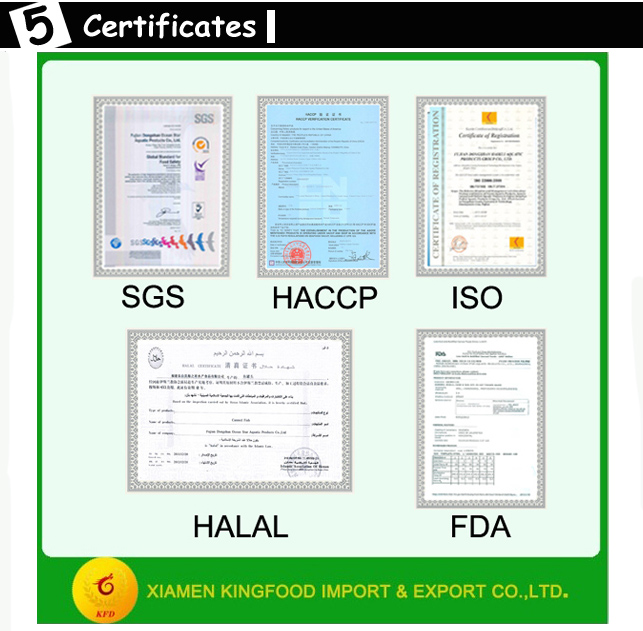 ----HACCP,QS,HALAL,ISO9001,IFS,BRC,FDA etc,.
----If any other certificate needed,pls let us know in advance.






--canned mackerel,canned sardines,canned tuna,canned corn is the major productsof KINGFOOD
--canned mushroom,canned lychee etc,. are provided in different season.