Wasabi flavored seasoning , condiment and also a dressing for making Japanese style pickles or salad with fresh vegetables.
Condiment For Home Made Instant Japanese Traditional Pickles With Herbs And Spices Of Wasabi
# Wasabi (Japanese horseradish) flavored candiment for pickles .
#Also used for dressing vegetable salad , easily and speedy.
# 20g×3 sachets in, and one sachet for 200g vegetables .

Cooking images:

Ingredients
Starch hydrolyzate, salt, horseradish, lactose, miso powder, sake lees powder, wasabi stem, seasoning (amino acid, etc.), cyclic oligosaccharide, dried alum, antioxidants(Vitamin C), sour agents, polysaccharide thickener, converted starch, natural flavor(mustard seed), natural sweetener (stevia extract), contains ingredients derived from milk and soy.
Nutritional Information ( per sachet / 20g ):
Calories: 51kcal, Protein: 1.1g, Fat: 0.2g, Carbohydrates: 11.1g, Sodium: 2400mg
Preparation
Step1. Wash and cut the fresh vegetables(cucumber, radish, Chinese Cabbage etc.)at 200g. Step2. Put into a plastic bag and mix with one sachet of powder.
Step3. Mix it well and wait for 30 minutes, then enjoy it as a salad. Or, draw the air and seal the bag, then put it in refrigerator for 2 hours to get more tasty.

About Wasabi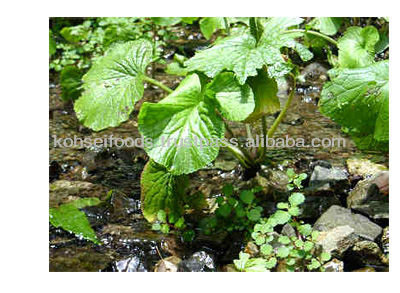 Wasabi ( japonica or Eutrema japonica ) , is a member of the Brassicaceae family, which includes cabbages, horseradish, and mustard. It is also called Japanese horseradish, [2] although it is not actually from the horseradish species of plants. Its root is used as a condiment and has an extremely strong flavor. Wasabi is generally sold either as a root which is very finely grated before use, as dried powder in large quantities, or as a ready-to-use paste in tubes similar to travel toothpaste tubes.
The unique flavor of wasabi is a result of complex chemical mixtures from the broken cells of the rhizome, including those resulting from the hydrolysis of thioglucosides into glucose and methylthioalkyl isothiocyanates:
6-methylthiohexyl isothiocyanate,

7-methylthioheptyl isothiocyanate,

8-methylthiooctyl isothiocyanate.
Research has shown that such isothiocyanates inhibit microbe growth, perhaps with implications for preserving food against spoilage and suppressing oral bacterial growth.

About Us
Kohsei Foods has researched and developed kinds of mixed condiments, Seasonings and other fermented raw materials including rice koji for many years. we hold the No.1 market share of powdered condiments for Japanese pickles in Japan, and We have safely and securely delivered high quality raw material products for producing fermented foods such as miso, soy sauce, sake, mirin, vinegar, and pickled products to a number food manufactures.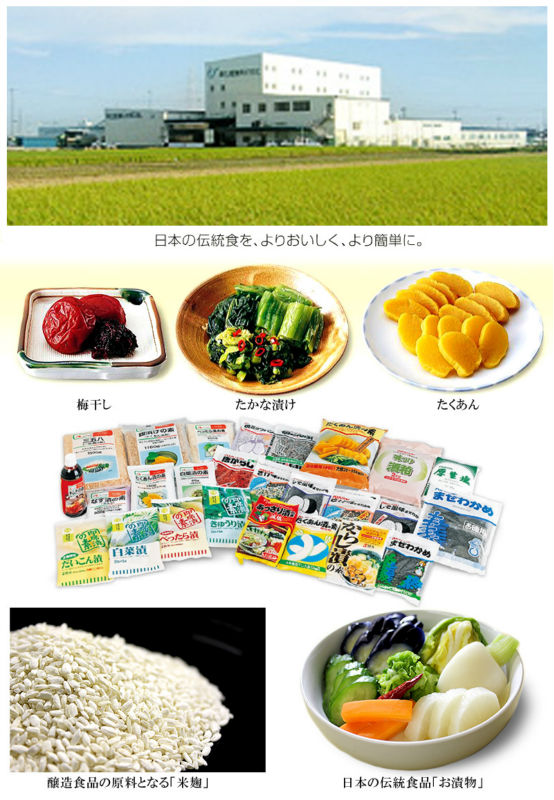 Research and development performed by full-time employees familiar with our products.
By conducting research in collaboration with universities and local governments , we strive to increase the availability of fermented foods including koji using state-of-the-art research facilities and technology.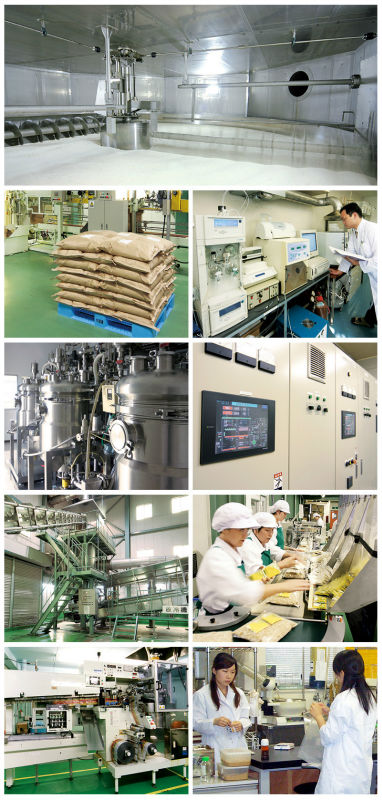 Principal Production Line ISO22000 certification (2008, 2009, 2011).