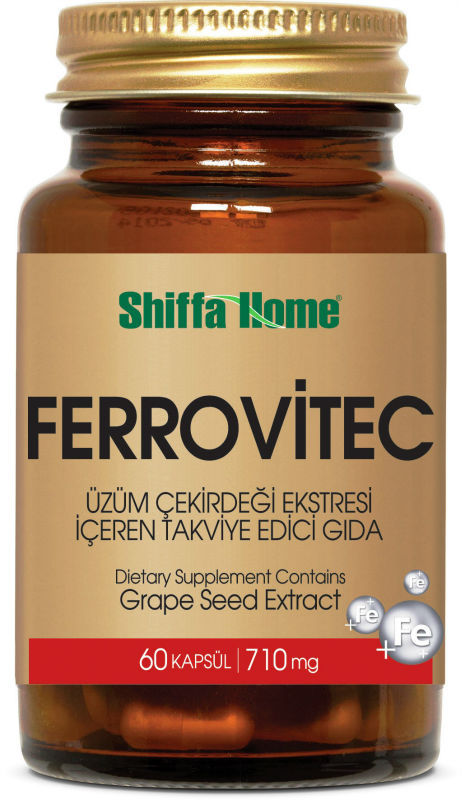 FERROVITEC Food Supplement with
Grape Seed Extract
Alfalfa Extract, Fenugreek Extract,
Rosehip Extract Mix Capsule
FerroVitec Vitamin Mineral Mix
FERROVITEC Dietary Supplement Containing
Grape Seed Extract
BRAND

Shiffa Home

PRODUCT

Dietary Supplement Contains Grape Seed Extract

Ingredients of Dietary Supplement Contains Grape seed extract (For 1 capsule)

Vegetable capsules (Carrier-Hydroxypropyl methyl cellulose), Grape seed extract: 85 mg, Fenugreekseed:85 mg, Rose hip fruit:85 mg, Vitamin C: 48mg, %GKM: 60 (L- ascorbic acid), Hawthorn leaf: 40 mg, Lemon balm leaf: 40 mg,, Nettle leaf: 40 mg, Rosemary leaf: 40mg, Sage leaf: 40 mg,Zinc:14 mg-%GKM(Ferricpyrophosphate), Zinc:8 mg, % GKM: 80 (Zinc Sulfate),

USAGE

Recommended to take 1 capsule once daily.

CAUTION

Store away from heat, light and moisture. Keep out of reach of children.

INFORMATION

Do not exceed the recommended dosage daily.

· Food supplements do not replace the normal daily feeding.

· Not for medicinal use in any treatment and healing purpose.

· If you are pregnant, nursing, taking any medication or have any medical condition, please consult your doctor before taking any food supplement

PACKAGE

710 mg x 60 capsules

42.6 ge

Carton: 6 bottles
Content: Medicago sativa (alfalfa leaves), Trigonella foenum-grace I (Fenugreek seeds), Vitis vinifera (Black grape seed), Rosa canina (Rosehip fruit), Rubus idaeus (raspberry fruit), Portulaca oleracea (purslane), iron (II) fumarate, vitamin C, Spinacia oleracea (spinach leaves), Crataegus sp. (Hawthorn fruit), Urtica sp. (Nettle leaf), Rosmarinus officinalis (rosemary leaf), Melissa officinalis (lemon balm leaf), Salvia officinalis (sage leaves), zinc sulfate, folic acid, vitamin B12, herbal capsules
Grape seed, which is one of the anti-aging tools, has a very strong anti-oxidant effect.
It is 50 times stronger than Vitamin E and 20 times stronger than Vitamin C.
Anti-oxidants eliminate the free radicals, which are formed as a result of chemical reactions in our body or taken from outside like cigarettes, alcohol and contaminated air.
Free radicals are imbalanced oxygen molecules that attack normal cells and harm them.
Moreover, grape seed also helps to prevent diseases from forming, maintain hormonal balance, make the skin look more firm and delay the aging process.
It has a positive effect on widening blood vessels and relieving the muscles, which in turn causes fewer wrinkles.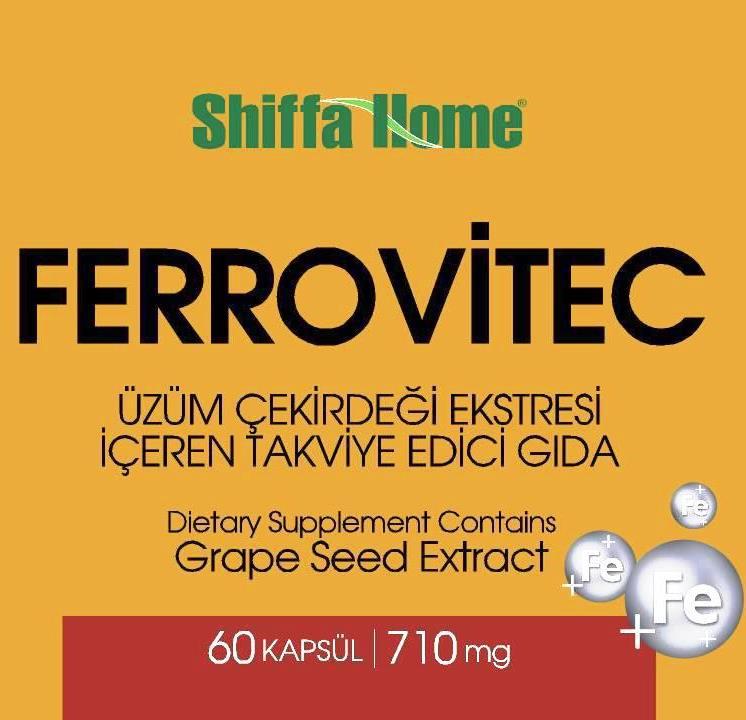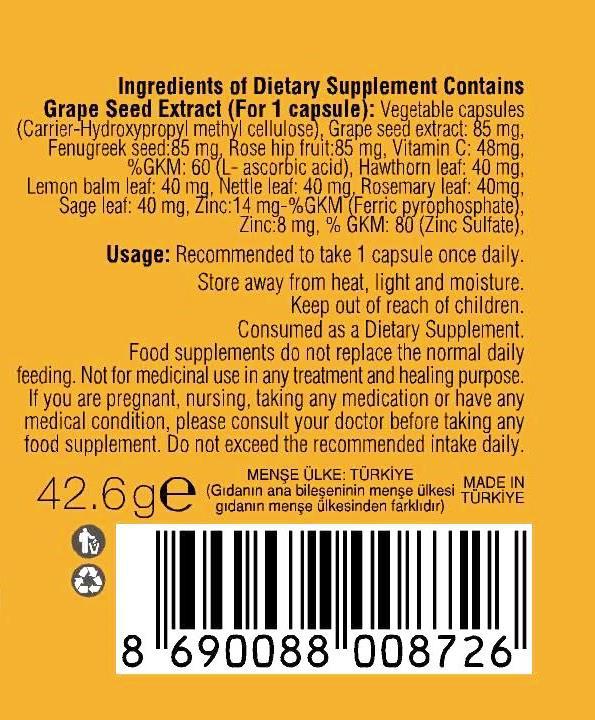 Grape seed extract and the prevention of chronic degenerative disease.
Suprising but grape seed extract may be better for you than the grapes from which it comes.
For countless centuries, people from many different cultures have enjoyed a fine glass of wine, but only recently have scientists discovered that it might be good for us, too.
Yes, moderate wine drinking actually has a number of excellent potential health benefits, although of course the alcohol is not the part that does all the good!
In fact, one of the surprising advantages of millions of consumers enjoying the fruits of the wine industry is that its by-products can be made into some really useful health supplements.
Take grape seeds, for example. Grape seed extract is known as waste product of the winery and grape juice industry, because they don't go into the finished drinks.
What is in grape seed extract?
What you may not know is that grape seed extract contains a vast array of health-giving ingredients, such as protein, lipids, carbohydrates and polyphenols (which come mainly in the form of flavonoids, also known as bioflavonoids). The term flavonoid is used for a class of plant chemicals known for their activity as highly potent antioxidants, and therefore for their capability in protecting the body against oxidative and free radical damage. It's not really surprising when you consider the scientific studies: they show that the antioxidant power of polyphenols is 20 times more powerful than vitamin E, and 50 times greater than vitamin C.
Because of its polyphenol content, purple grape juice provides a far greater antioxidant effect than orange juice.
What else can grape seed extract do?
Some people call these polyphenols "nature's biological response modifiers" because of their ability to help the body fight viruses, allergens, and carcinogens.
That means that among their many talents, they exhibit anti-inflammatory, anti-allergic, anti-cancerous and anti-microbial activity.
Not bad for a "waste product"!
Procyanadin: The secret anti aging vitamin?
One particular type of phenol found in grape seed is called procyanidin. It was initially discovered in 1936 by Professor Jacques Masquelier, who called it Vitamin P, (although the name didn't really catch on, and has since fallen out of usage).
As well as the disease prevention mentioned above, procyanidins are thought to protect the body from premature ageing. Scientists think they do this by increasing vitamin C levels in the cells and scavenging for toxins so the organs can get rid of them.
A good "side effect": Younger looking skin
Procyanidins also bond with collagen, the most abundant protein in the body and a key component of skin, gums, bones, teeth, hair and body tissues.
The bonding promotes cell health and skin elasticity, making it seem more youthful, in a process that works almost like a natural face-lift. Procyanidins additionally help protect the body from sun damage, which can also cause premature ageing of the skin.
More importantly it helps inside the body
Vanity is one thing, but underlying health is quite another.
Far more important to your body than looking good, is the fact that procyanidins can improve your vision, the flexibility of your joints, the health of your arteries and body tissues (such as the heart) and also strengthen capilliaries and veins to improve your circulatory system.
This is important because the health of your circulatory system affects the health of your heart. It seems that grape seed extract delays the oxidation of low density lipoproteins, the fats that are responsible for "bad cholesterol".
The longer it takes for LDL to oxidize, the less likely it is to start clogging up your veins and arteries. People who drink purple grape juice can show an increase in oxidation lag time of 27%.
So, procyanidins present in grape seeds are known to exert anti-inflammatory, anti-arthritic and anti-allergic activities, to prevent skin aging, to scavenge oxygen free radicals and to inhibit the damaging effects of UV radiation from sunlight.
Since most of these processes are linked to cancer, it follows that grape seeds are probably strong anti-carcinogenic and/or anti-tumor-promoting agents.
Studies show they may have particular use against colorectal cancer, and scientists are devoting a fair amount of new research to grape seed because they're pretty confident about its abilities.
The other "secret ingredient" of grape seed extract.
One other of the grape's hidden health weapons is also worth a mention: it's called resveratrol. This chemical is found primarily in the skin and seeds, particularly in muscadine grapes, and it confers a number of beneficial effects to the body.
They include all those mentioned above, but also an ability to help the brain and its processes work efficiently i.e. they have neuroprotective capabilities. In rats, this has life-prolonging effects, so it's reasonable to assume it may do the same for other animals, humans included.
Whats the best way to get grape seed extract into your body?
Luckily, you don't have to drink litres of wine or grape juice, or eat sacks of grape seeds to get these helpful chemicals into your body.
Thanks to modern technology, we now have high-quality grape seed extract in the form of supplements.
That means you can enjoy all the health-giving properties of grape seed simply by taking a pill.
Meanwhile, it's a bonus to know that all these amazing added benefits are coming from the "waste products" of wine, so that an enjoyable pastime for some folks results in a health boost for millions of others.
Next time you toast your good health, you might like to spare a thought for the humble grape seed and all the wonders it can offer your body. Cheers!
Packing : 710 mg x 60 Vegetable Capsules = 42.6 ge
Carton : 6 bottles
AKSU VITAL COMPANY PROFILE

Name of the Company

AKSU VITAL NATURAL AND HEALTHY FOOD & COSMETIC PRODUCTS CO.

Address

Kavakli Mah. Kuzey Cad. No: 5 , Beylikduzu - ISTANBUL / TURKIYE

Tel

00 90 212 671 55 47 (Pbx)

Fax

00 90 212 671 55 28

Website

www.aksuvital.com.tr

Contact

Mr. Sadik Yuksel Export Manager

Status of the Company

Manufacturer & Exporter

Year of Foundation

1989

Production Site (M2)

: 10.000 M2 Covered Area.

Products Range

For Hyper & Supermarkets :
1) Honey Group :

Multi-Flowery, Pine and Chestnut Honey , Practical Use, Comb Honey and Special High Plateau Honey

2) Molasses :

Grape, Mulberry, Carob Molasses Juniper and Apricot Molasses , Date Molasses etc.

3) Herbal Teas :

7 functional herbal mixed teas and 16 single herbal teas.

4) Other items:

Vitalest gel and herbal mixtures for sportmen , New ones coming soon.

For Herbal and Spice-selling Shops :
1) Slimming Products Group

: Avicenna Forms in Paste & Powder , Herbal Slimming Tea ,

2)

Apicultural Products

: Unadulterated Creamy Royal Jelly , Untreated Bee Pollen in Granules , Bee Propolis.

3)

Herb+Spices+Honey Mixtures

: Power Pastes for adults & Kids. Honey+Bitter Melon+Some Herbs Mixture (especially for gastritis , stomach patients) for Bronchitis & Hemorrhoid complaints , Weight-controle Paste etc.

4)

Vitality Products

: Honey+Pollen+Royal Jelly+Ginseng+Propolis Mixtures for Men , Women and Kids.

5)

Herbal Aromatic Waters

: Aromatic Thyme Water , Nettle Water , Chamomile Water , Rose Water , Lavender Water , Aniseed Water , Rosemary Water , Sage Water , Marjoram Water , Olive Leaf Water , Peppermint Water

6) Ground Products :

Ground Grape Seeds , Flax Seeds , Nettle Seeds , Nigella Seeds , Milk Thistle , St. John's Wort etc..

For Pharmacies & Health Stores :
1) Tablets

: Royal Jelly in Tablets , Red Ginseng in Tablets , AksuVit Tablets , Glucosamine&Chondroitine Tablets

2) Capsules

: Gingko Biloba, Grape Seed, Pollen, Fitoform, Propolis, MDA Capsules, Relax, Garlic, Artichoke, Echinacea, Milk Thistle, Ginseng, Herbs-Spices Mixtured Capsules with Bitter Melon and Propolis , Spirulina, Pomegranate Seed, Green Tea, St.John's Wort , Valerian Root, Hawthorne Capsules , Prostate capsules , Hemorrhoid capsules , Migraine capsules , Blood making capsules , Omega-3 Softgel , Nigella Seed oil in Softgel capsule , Olive oil in Softgel capsules

3) Syrups & Sprays :

ProViteC syrup for immune system , Omega 3 Syrup , MultiVitamin Syrup for kids , FerroViteC syrup , Rose Water Spray , Lavender Water , Rosemary water Spray , Jasmine Flower Water Spray.

4) Natural Single Oils:

Trout Oil, Sweet Almond, Walnut, Pine Turpentine , Black Sesame, Flax Seed, Cocoa, Garlic, Seed, Grape Seed, Mustard , Pumpkin Seed , St.John's Wort , Castorbean , Avocado, Carrot Seed, Coconut, Wheat Germ, Nettle Seed, Apricot Kernel, Garlic, Jojoba, Melissa, Juniper , Clove , Lavander , Sage , Peppermint, Orange, Eucalyptus, Violet, Rosemary, Laurel Leaf, Chamomile , Balsam oil , Lemon Kernel , Fennel , Jasmine , Ginger , Thyme, Rose , Marigold , Sandalwood , Blue Anemone , Olive , Hazelnut , Pomegranate Seed , Sage , Argan oils etc...

4) Care Oils:

RMT oil (for Rheumatism) , Hair Care oil , Skin care oil , BSR oil (for Hemorrhoid) , Anti-Cellulite oil , Sun Block oil , Cabbage oil for adults and Gas Remover oil for Babies ,

5) Soaps :

Fibrous soap with Honey & R.Jelly , Apricot oil-Soap , Nettle oil-Soap , Bittim oil-Soap, Almond oil-Soap , Sulphur Soap , Natural Sponge-Soaps (7 types) , Cold Pressed-Soaps (12 types)

6) Creams :

Care creams with Honey & Royal Jelly , with Blue Anemon , with Apricot oil , with Almond oil and Synake Eye Contour creams , Grape seed cream , Snail cream , Calendula Cream , Limon kernel oil-Cream , Day care cream.

7) Shampoos :

Care Shampoo with Honey & R. Jelly , Shampoo with Olive and Daphne oil , Nettle & Garlic Shampoos.

Online Catalogs

AVICENNA Herbal & Food Supplements

www.aksuvital.com/ekatalog/aksuvital

SHIFFA HOME Natural & Herbal Aromatic Oils

www.aksuvital.com/ekatalog/yaglar

SOFTEM Natural Caring Series

www.aksuvital.com/ekatalog/softem

AKSUVITAL NATURAL products

www.aksuvital.com/ekatalog/aksuvitaleng

AROMATIC HERBAL WATERS

www.aksuvital.com/ekatalog/herbalwaters

Main Export Items

Honey Group , Nutritious Power Pastes , Slimming Products , Mixtured Nuts with Honey , Molasses , Apicultural Products , Honey+R.Jelly+Polen Mixtures , Aromatic Water Varieties , Pomegranate Sauces , Herbal Teas , Pharmaceutical Products such as Syrups , Capsules &Tablets, Natural Aromatic and Massage Oils , Creams , Soaps , Shampoos.

Main Export Markets

Germany , England , Libya , USA , Algeria , Jordan , U.A.E. , S.Arabia , Poland , Canada , North Cyprus , Kuwait , Iraq , Azerbaijan , Holland , Tunisia , Yemen , Australia , France , Malaysia , Bahrain , Qatar , Russia.

International Fairs Participated

1 )

ANUGA

in Cologne / GERMANY

2 )

SIAL

in Paris / FRANCE

3 )

FANCY FOOD

in New York / USA

4 )

SIAL MIDDLE EAST

, Abu Dhabi / S. ARABIA

5 )

BEAUTY WORLD COSMETIC EXPO

in Dubai / U.A.E.

6 )

SIAL CHINA

, Shangai - CHINA

7 )

ISTANBUL FOOD EXPO

- Istanbul / TURKIYE

8)

BEAUTY EURASIA COSMETIC EXPO

, Istanbul / TURKEY

Global Acceptability of the Products

We have the following Certifications internationally ;

1 ) ISO 9001 and ISO 22000 Certificates

2) GMP Good Manufacturer Practices Certificate

3 )

HACCP

(Hazard Analysis of Critical Control Points) by WCS.

4 ) International

Gold Star

For Quality by Business Initiative Directions (BID) in 2002.

5 )

FDA No

: 18806943380 (Food and Drug Administration of USA).

6 )

TSE

(Turkish Standards Institute for Quality)

Our Brands

AKSU VITAL

: Generally used for basic products.

AVICENNA

: Food & Nutritional Supplements in Capsules , Tablets and Syrups for Pharmacies.

SHIFFA HOME

: Tablets,Capsules&Aromatic Oils for Herbal & Spice Selling Shops&Pharmacies and herbal teas.

VITALEST :

Items for Sportmen

SOFTEM

: For personal care creams , soaps , shampoos and massage oils.

Commercial Presence in the Local Market

Aksu Vital has 40 distributors in countrywide. Additionally , Aksu Vital Natural & Healthy Products can be easily found at more than 3500 sales points throughout Turkey , including Cosmetic and Health Stores , Herbal and Pharmacy shops.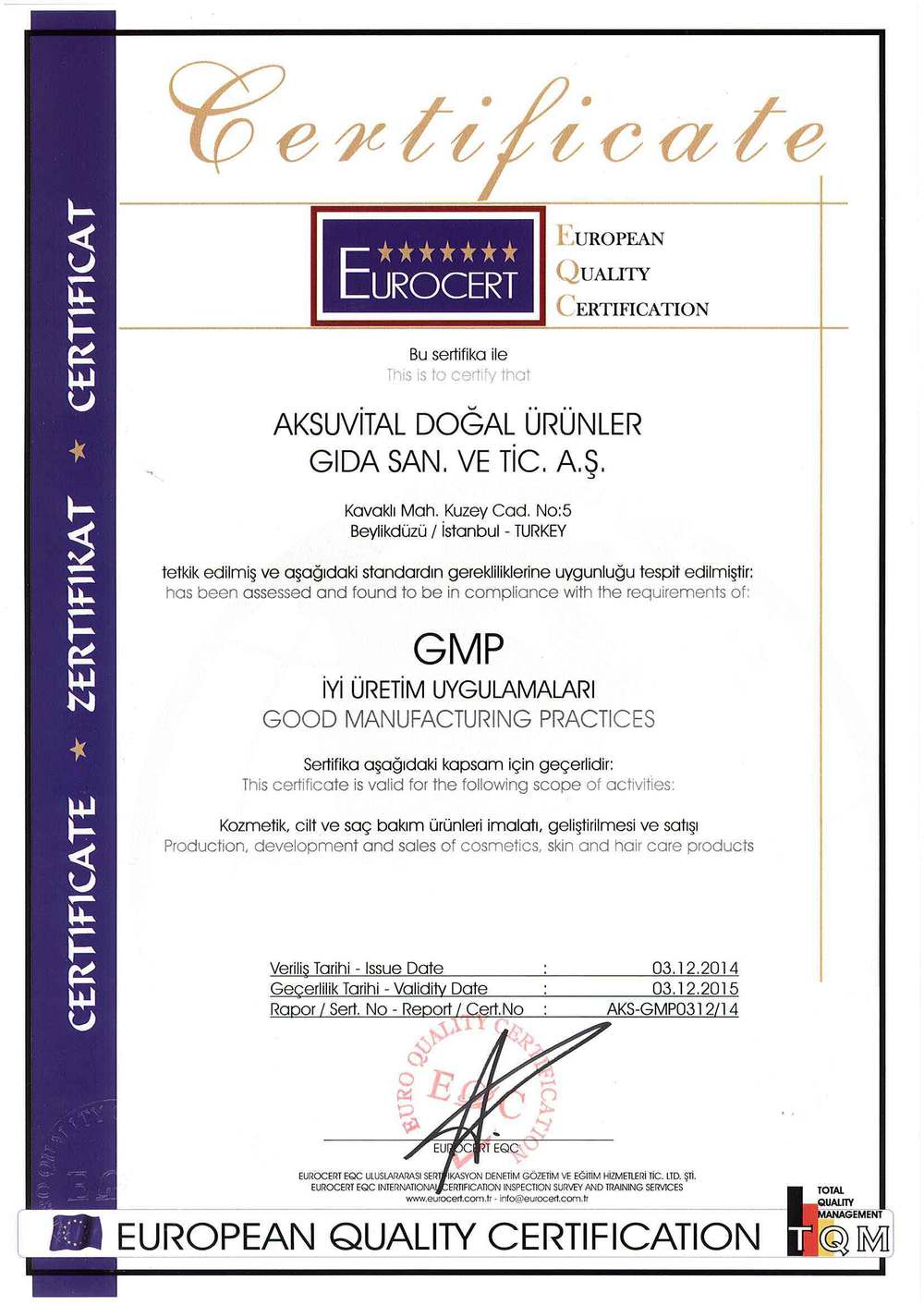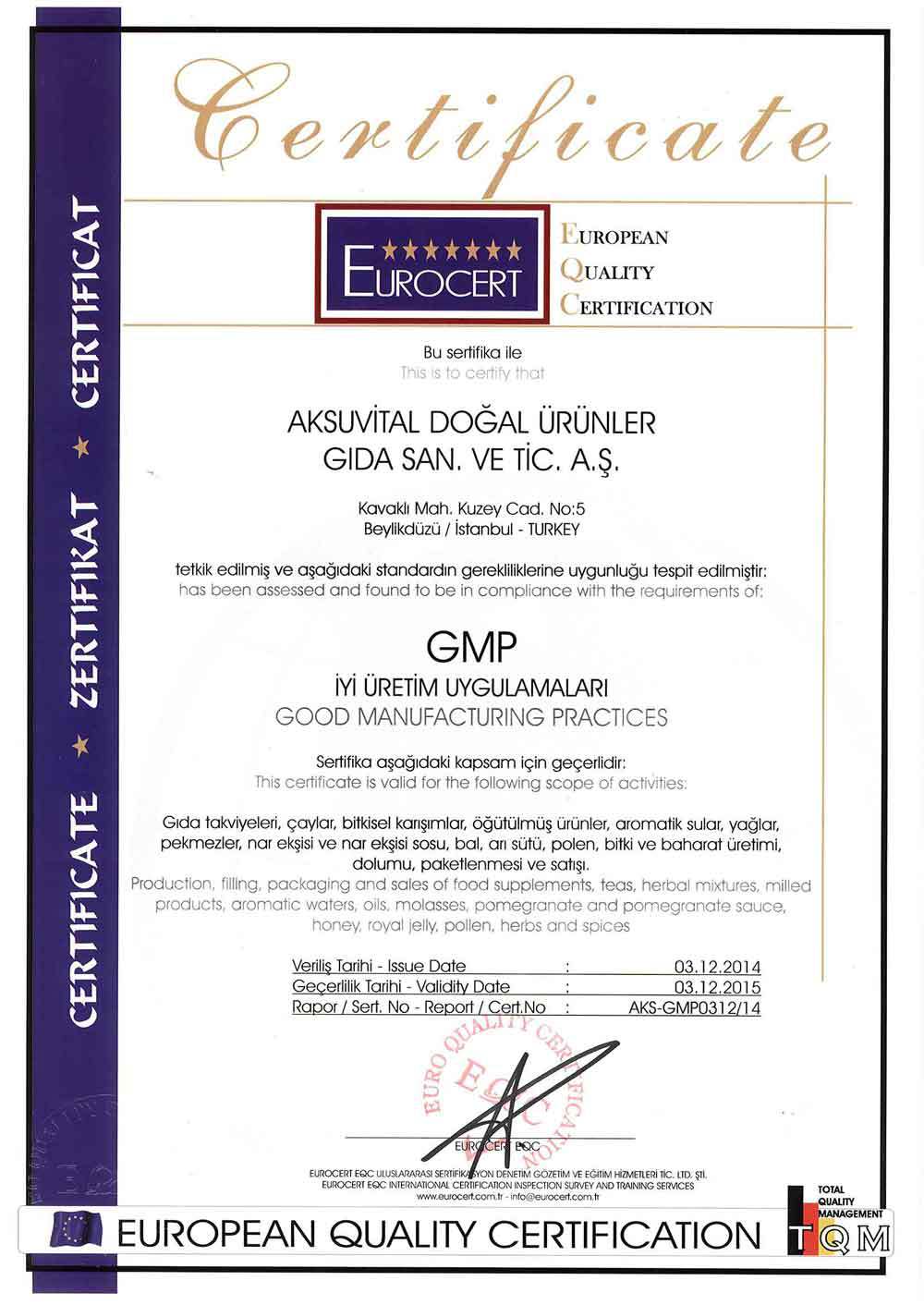 We can develop your private label. OEM service available. Please contact for more details.