Flake ice machine Application
1) Fishing-- Sea water flake ice machine can make ice directly from the sea water, ice can be used in fast cooling of fish and other sea products. Fishing industry is the largest application field of flake ice machine.
2) Sea food process-- Flake ice can lower the temperature of cleaning water and sea products, therefore it resists the growth of bacteria and keeps the sea food fresh.
3) Bakery-- During the mixing of flour and milk, can prevent the flour from self raising by adding flake ice.
4) Poultry-- Huge amount of heat will be generated in food processing, flake ice can effectively cool the meat and water air, also supply moisture for the products at the meantime.
5) Vegetables distribution and fresh-keeping-- Now days, in order to guarantee the safety of food, such as vegetables, fruit and meat, more and more physical methods of storing and transporting are being adopted. Flake ice has a fast cooling effect so as to ensure the applied object will not be damaged by bacteria.
6) Medicine-- In most cases of biosynthesis and chemosynthesis, flake ice is used to control the reaction rate and maintain the liveness . Flake ice is sanitary, clean with rapid temperature reduction effect. It is the most ideal temperature-reducing carrier.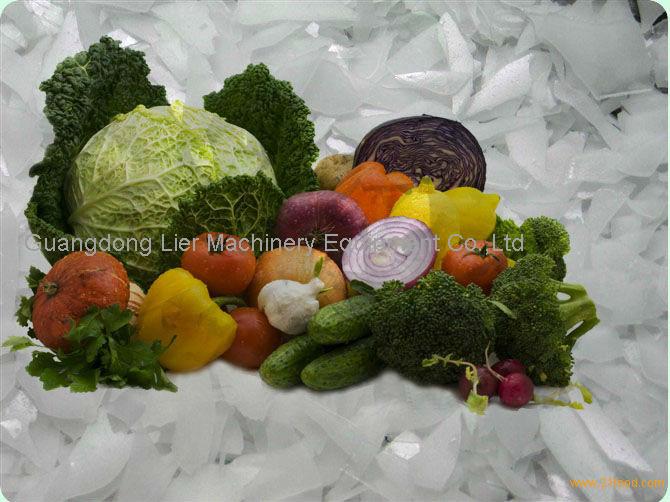 Flake ice machine technical parameters:
Model

Ice capacity

(kg/24h)

Refrigerating capacity

(kw)

Power supply

Total power

(kw)

refrigerants

Dimension (mm)

Weight

(kg)

LR-02T

200

1.8

1P/220V/60HZ

1.2

R22

760*730*450

115

LR-05T

500

3.7

3P/380V/50HZ

2.5

R404A/R507

1310*890*780

195

LR-1T

1,000

6.5

3P/380V/50HZ

4.8

R404A/R507

1310*970*880

227

LR-1.2T

1,200

7.8

3P/380V/50HZ

5.4

R404A/R507

1310*970*980

263

LR-1.5T

1,500

9.8

3P/380V/50HZ

7.3

R404A/R507

1310*970*980

364

LR-2T

2,000

13

3P/380V/50HZ

8.5

R404A/R507

1500*1095*1040

423

LR-2.5T

2,500

16.2

3P/380V/50HZ

9.2

R404A/R507

1500*1095*1200

456