Company Introduction
Hainan Nicepal Industry Co.,Ltd was founded in 1999, which is located in Hainan Island with factory and R&D centre covering the area of 60000 square meters. Dozens of specialty fruit powder is popular all over the world, such as coconut powder, banana powder, mango powder, pineapple powder, lime powder, lemon powder, papaya powder, pumpkin powder etc. Nicepal fruit powder can be applied in beverage, healthcare food, baby food, snack, ice cream,baking food, and pharmaceutical product. The quality of Nicepal fruit powder is controlled by modern workshops and spray-drying production line with high standard production, We have got ISO9001 quality management system, ISO22000 food safety management system, BRC global standard for food safety, Halal and Kosher certification etc.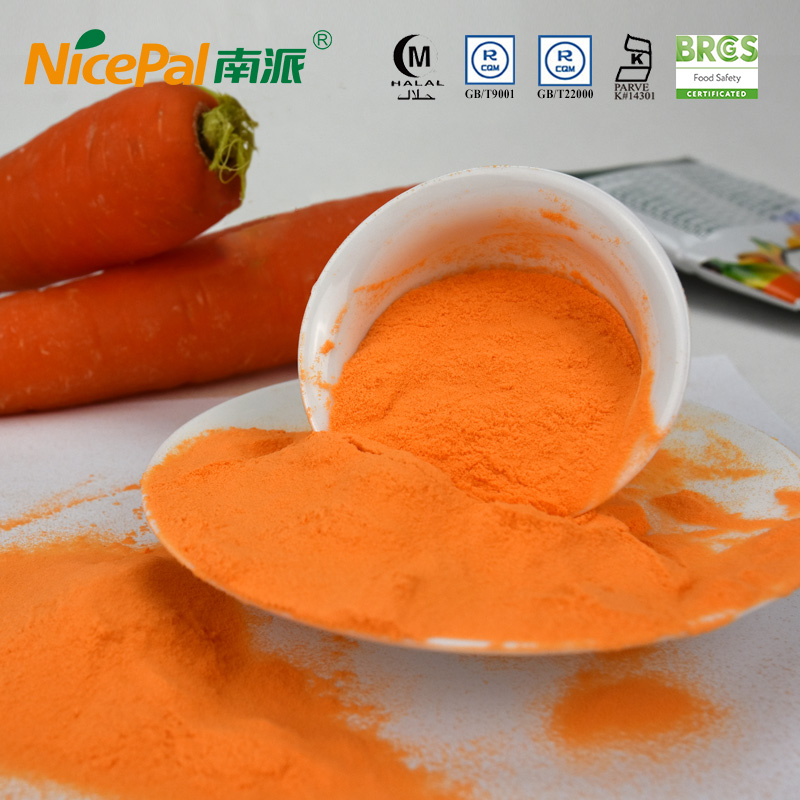 Spray dried carrot fruit powder/ carrot fruit concentrate juice powder
Carrot is also known as red carrot or Gan Xun. As we all know, carrot is not only rich in carotene, but also rich in vitamin B1, vitamin B2, calcium, iron, phosphorus and other vitamins and minerals. Nicepal carrot powder is selected from Hainan fresh carrot made by the world's most advanced spray-drying technology and processing, which keeps its nutrition and aroma of fresh carrot well. Instantly dissolved, easy to use.
Features
Keep fresh nutrients and pure carrotflavor, quality assurance, color natural, good solubility, no preservatives, no essence or synthetic pigment.
Application

1. Snack food, Ice cream, Jelly
2. Healthcare food, Pharmaceutical product
3. Baking ingredient, Bread and Biscuits
4. Beverage
5. Seasoning, Sauces
6. Baby food, Dairy products.
Direct drinking: dissolved 10g carrot powder directly into 150-200ml warm water for drink.
Product specification
Appearance: powder, powder loosing, no agglomeration, no visible impurity.
Color: orange-red
Odor: odor of fresh carrot
Ingredient:92% natural carrot
Water: less than 5%
Solubility: more than 92%
Total Plate Count: less than 1000CFU/g
Salmonella: Nil
Coil: less than10 MPN/100g