Fresh Arugula, Mideterranean Rocket Salad
FOB Price:

Price can be negotiated

Production Capacity:

1000 kg

Payment Terms:

$9.56 - $10.00/kg

Update Time:

2019-03-14
Product Description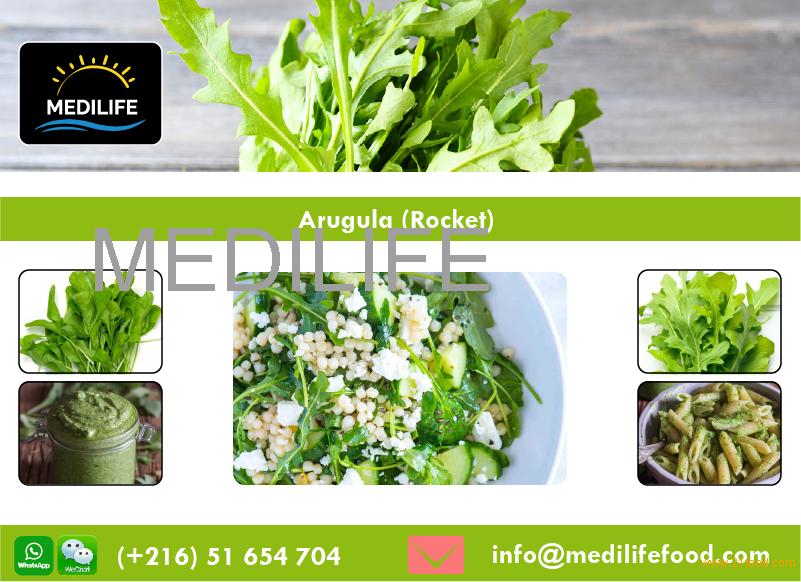 Arugula, Mideterranean Fresh Rocket Plant
Arugula is a known cruciferous vegetable that provides many benefits . Arugula leaves are tender and bite-sized with a tangy flavor. Along with other leafy greens. This green plant is from a Mediterranean origin and It belongs to the Brassicaceae family similar to as mustard greens, cauliflower, kale and it's scientific name is Eruca sativa.
- Raw Arugula contains in 100 gr :
| | | |
| --- | --- | --- |
| Principle | Nutrient Value | Percentage of RDV |
| Energy | 25 Kcal | 1% |
| Carbohydrates | 3.65 g | 3% |
| Protein | 2.58 g | 5% |
| Total Fat | 0.66 g | 3% |
| Cholesterol | 0 mg | 0% |
| Dietary Fiber | 1.6 g | 4% |
- Health Benefits of Arugula :
BENEFITS

Boosts

Bone Health

- Arugula's combinative effects of low oxalate levels (allowing more minerals into the system) and the presence of so many minerals in the plant itself make it a strong support system for healthy bones. Sufferers of osteoporosis can see improvements, and arugula can

be used as a preventative step as well.

Boosts Immune

System

- Vitamin C is one of the

best defenses

for your body to seek out dangerous, inflammatory free radicals and eliminate them from your body before they can cause real damage. This well-known vitamin is found in large quantities in arugula and helps prevent cancer and maintain good health by giving an extra push to your immune system.

Prevents Cancer

- Arugula, like many other vegetables in the cruciferous family, contains glucosinolates, which are key phytonutrients believed to a type of

natural cancer remedy

. When you chew arugula, these compounds mix with a digestive enzyme called myrosinase that turns them into other cancer-fighting nutrients known as isothiocyanates.

Pre-Natal Care

- For mothers who are expecting, arugula is a wonderful choice to add to their diet. Folates, a classification which includes folic acid, have been shown to

decrease occurrences

of certain mental defects in newborns.

Improves Eyesight

- It can help protect eyes from age-related disorders because it's a great source of protective carotenoid antioxidants. These special compounds have been extensively researched in relation to their ability to prevent macular degeneration, one of the leading causes

of blindness in older adults.

Weight Loss

- Arugula is an extremely nutrient-dense food, considering it has only five calories per cup but loads of antioxidants. Because people tend to eat more than one cup of leafy greens at a time, arugula is essentially a

superfood for weight loss

and a great way to obtain plenty of vitamins, minerals and phytonutrients while still sticking to a low-calorie diet overall.

Increases Metabolism

- Another benefit of arugula is the presence of B-Complex vitamins that promote

metabolism

. Eight B vitamins participate and aid in all different cell activities, including energy production, fat synthesis, the production of red blood cells, and many other vital processes for cell and metabolic health.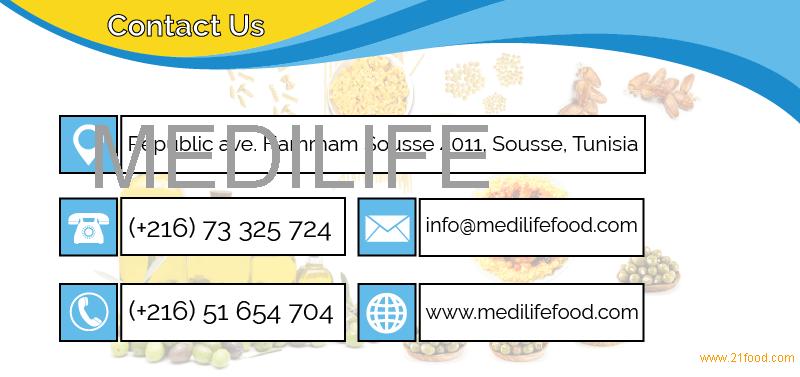 Other Products
Company Profile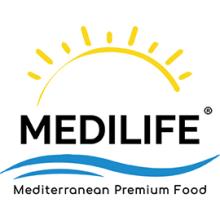 Name:

MEDILIFE

Main Products:

Olive Oil Olives Pasta Couscous Dates

Business Type:

Manufacture & Trade

Total Employees:

500 ~ 1000

Established Year:

2013

Total Annual Revenue:

US$50 Million - US$100 Million

Main Markets:

North America,South America,Eastern Europe,Southeast Asia,Africa,Oceania,Mid East,Eastern Asia,Western Europe,

Address:

Republic Ave . Laatiri Bldg
1/ About MEDILIFE :

MEDILIFE stands for " Mediterranean Premium Food " .

Our aim is spreading the Mediterranean lifestyle, and Mediterranean diet to the world.

Our approach is selcting premium quality food locally manufactured in Tunisia .

2/ MEDILIFE Vision is :

1. Spreading Mediterranean Healthy Food and Culture all over the world.

2. Helping to create healthier communities by connecting people to a real and healthy food.

3. Health is necessary for Happiness. Achieving Health contributes significantly to

more
Business Type:

Manufacture & Trade

Main Products:

Olive Oil Olives Pasta Couscous Dates

Main Markets:

North America,South America,Eastern Europe,Southeast Asia,Africa,Oceania,Mid East,Eastern Asia,Western Europe,

Location:

Hammam Sousse, Sousse, Tunisia

Year Established:

2013
Send your message