Introduction of Automatic Potato Chips Making Machine
This automatic potato chips production line is specially designed for processing potatoes into delicious potato chips, potato crisps or French fries. Apart from making potato chips and French fries, you could also make frozen french fries(equipped with a freezer). It has some advantages such as large capacity, large output, a high degree of automatic, labor-saving and high return rate, etc.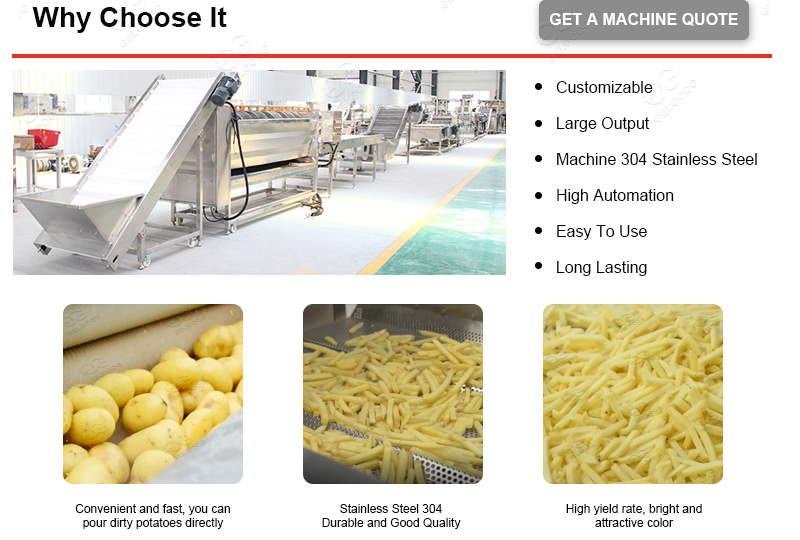 Overview of Automatic Potato Crisps Production Line
This is fully automatic production line to produce potato chips from fresh potatoes.
All the machines in the production line are made of stainless steel 304.
Electricity power requirement is 380V/50Hz/three-phase.
The blanching temperature and frying temperature are adjustable according to your potato chips condition.
The cutting machine can cut the potato sticks of thickness 2-10mm, it is adjustable.
The packing machine is an automatic one, and the machine can feed, elevate, weigh and pack the chips at one time.
Features of the Industrial Frozen French Fries Processing Line
Longer service life.
Low oil consumption.
High efficiency and energy saving.
Easy operation and multifunctional usage.
Excellent quality.
Comparative price and high rate of profitable return.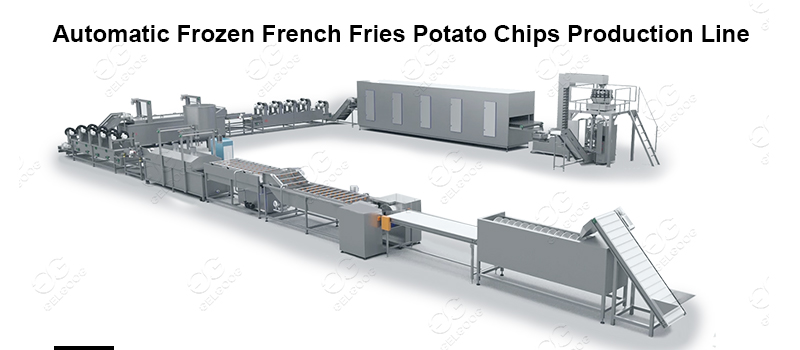 300kg/h Fully Automatic Potato Chips Line Technical Data
– The length of the entire production line is 50 meters.
– Water consumption: 0.3 cubic meters per hour.
– Labor needed: 3-4 people.
– Land needed to install the production line is 200 square meters.
– Electric consumption is 156Kw.h.
– Oil consumption is 30 liters per hour (any kind of cooking oil is available, such as sunflower oil, corn oil, bean oil, peanut oil, rapeseed oil, etc.).