pure white garlic, size from 3.0cm to 6.0cm, mesh bag or carton packing, customized package accepted.
pure white garlic or normal white garlic in superior quality, have been exported to many countries already. With own factory,cold store.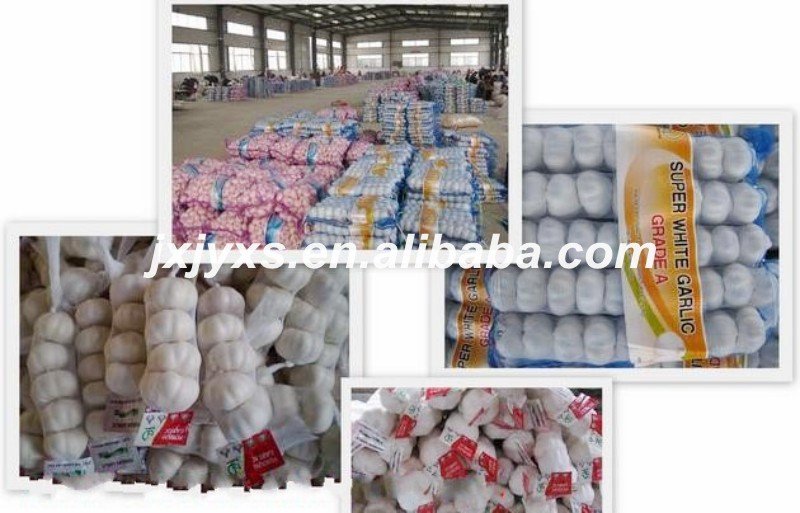 The price is so good!
Packing :
Loose Packing:
a) 10kg/carton;
b) 20kg/carton;
c) 10kg/mesh bag;
d) 20kg/mesh bag;
2) Small packing:
a) 1kg/bag, 1kg x 10bags/carton;
b) 500g/bag, 500g x 20bags/carton;
c) 250g/bag, 250g x 40bags/carton;
d) 200g/bag, 200g x 50bags/carton;
e) 3pcs(200g)/bag,200g x 50bags/carton
f) 4pcs(250g)/bag, 250g x 40bags/carton;
g) 5pcs/bag, 10kg/carton;
h) 1kg/bag, 5kg/mesh bag;
i) 500g/bag, 5kg/mesh bag
3) Customized packing:
according to clients' requirements
Specifications & Details :
1) Sizes: 4.5 - 5.0cm, 5.0 - 5.5cm, 5.5 - 6.0cm, 6.0 - 6.5cm, 6.5cm and up
2) Transporting and storing temperature: -3° - 0°C
3) Supply period: all the year round
a) Fresh garlic: early June to September
b) Cold storing garlic: September to the next May
4) Plump shaped bulbs offering full flavored cloves that have a purplish hue
5) Shelf life is long and can be stored for up to 9 months under proper conditions
6)It can produce wonderful flavors and have the beneficial effect of reducing bacteria, keeping the heart in good condition and immunity
Shipment and Loading
a. The garlic must be shippde in reefer container
b. If packing in 20 kg/mesh bag, one 40' reefer container can load 28 MTS.
c. If packing in 10 kg/carton, one 40' reefer container can load 26 MTS
Product Type:

Liliaceous Vegetabless

Type:

Garlic

Style:

Fresh

Cultivation Type:

Organic

Size (cm):

5.0

Certification:

haccp,global gap,organic

Weight (kg):

0.15

Place of Origin:

Shandong China (Mainland)

Brand Name:

jinxiangjinyang

Model Number:

jyxs

color:

white

new:

fresh