*Delicious! Fun! Snack for getting nutrition for baby.
*Weight:1.4kg
Size:285x445x150
Pigeon's logo use a mother and child's heart stack upon each other. The P in PIGEON is also has this mark. With this logo, Pigeon wants to convey the image of "the shape of love". A mother or father cannot be replaced but we hope to reach many people with "the shape of love".

That is what Pigeon is trying to do. The founder, Mr. Yuichi Okita, through the 50s and 60s became the brand associated with baby products. In the pursuit of making good products for babies, Mr. Yuichi Okita for 6 year did research to produce bottles and other produce that are the best next thing to a mother's breast.

In the 1962, the president in various weekly articles receiver the title of "fighting breast company president." The company changed from pigeon lactation device corporation to pigeon corporation in 1966 and took out the lactating device part from the name. By that time pacifiers, lactation devices, paper diapers (Japan's first), training toilets, hot water bottles and other products so it was decided to change the name to "Pigeon Childcare" and continued growing. Pigeon's nipples and bottles for new born are used in a lot of hospitals and maternity wards. Also special bottles and nipple are made for babies with lip and jaw difficulties, born with underweight and have trouble drinking. Pigeon brand lactation devices, disability specialized products and such products have mostly been sold for server year without a change to the quality of the product.

Pigeon has used its mother's milk and baby's research to further its business. We here at Pigeon Corporation feel the need to make products and have services with "love" in mind for pregnancy, child birth, child raising and nursing . Our business development core is in research development. We are trying with our research to single out the problems with child raising and old age and solve them. Little by little our research will help solve everyone's problems with our product and services.



It is a snack that baby can replace nutrition required with the growth deliciously and delightfully. Size is adjusted for baby's hands and fingers. It is suitable for practice of holding and eating with their hands.

Containing DHA and calcium 30mg per bag(10g) required with the growth of baby.
No artificial color, preservatives, spices.




<Nutrition Facts 100g>
energy 369kcal, protein 4.1g, fat 0.7g, carbohydrate 86.5g, sodium 711mg, dietary fiber 0.7g, calcium 300mg, DHA 50mg

<Nutrition Facts per bag 15g>
energy 37kcal, protein 0.4g, fat 0.1g, carbohydrate 8.7g, sodium 71mg, dietary fiber 0.1g, calcium 30mg, DHA 5mg


Sweet series, "Genki-up Calcium" enriched nutrition. It is designed to be easy to hold and eat with the growth. It's perfect for when there's a long period of time between meals or as refreshment.
One bag (10g) contains 30mg of calcium, which is important for baby's growth. It is a small cracker for baby to eat easily with dissolving in the mouth, Small fish is kneaded into dough, Also contains DHA. Packed in small bag for convenient storing and carrying. From 7 months old.

*Please store this product away from direct sunlight, high temperatures or humidity.



Content: 10gx2packs 20g
Size(Packaging): 130x118x46mm

Ingredients: glutinous rice(Thailand), cornstarch, sugar, Scallop extract, salt, green laver, milk serum calcium, dried sardine powder, refined DHA fish oil, modified starch, calcium carbonate, (contains of milk and soybean as a part of ingredients)

*Allergy ingredients: milk, soybean
(selected 25 items by Ministry of Health, Labour and Welfare)

*The factory manufactures the products including wheat and shrimp.
*It might be seen black granules. It is a part of ingredients, so it is not detrimental to the quality and taste.


<Caution>
*Please watch baby till have eaten completely because baby cannot sometimes swallow well.
*Don't feed when baby is given a piggy back ride or lies down not to get stuck in the throat.
*Please adjust the amount not to shove into the mouth too much.
*Don't feed when baby cries.
*Until baby gets used to it, please feed it after containing moistures as soaking in water.
*Please give water, mixed juice or barley tea when or after baby eats.
*Age in month is used as standard. Let's advance gradually and not in haste.
<Note>
*After opening, please use it as quickly as possible to prevent from moisture absorption.



We only accept 100% T/T in advance.

We will answer your inquiries promptly.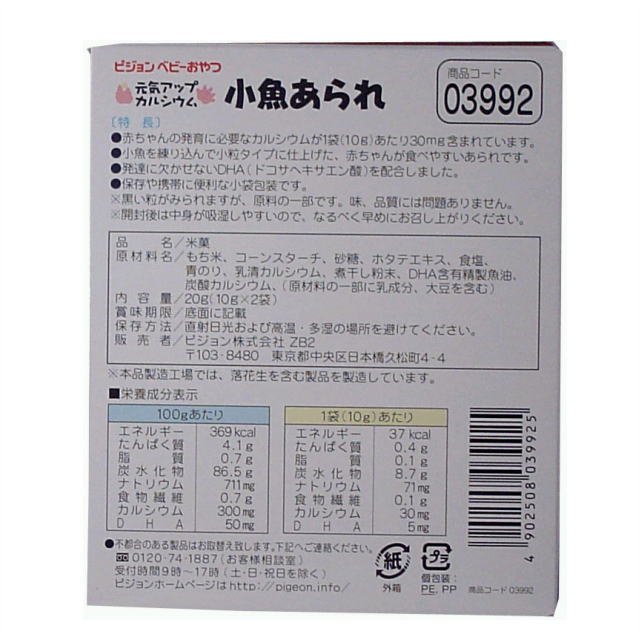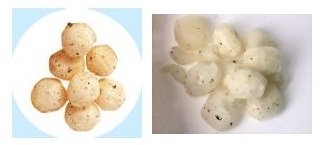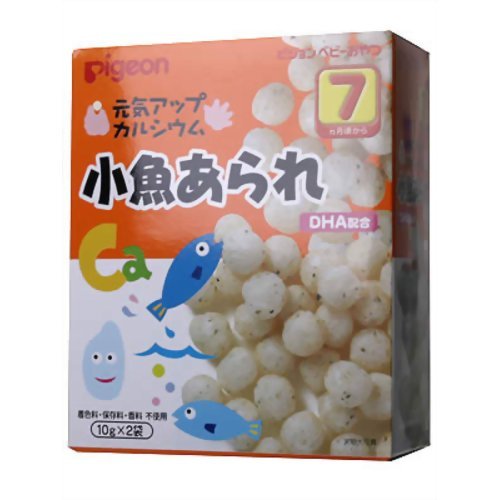 Product Type:

Other

Type:

Snacks

Age:

7 months-

Primary Ingredient:

Nonglutinous rice

Packaging:

Box

Shelf Life:

Best if Sold by Packaging Date

Brand Name:

PIGEON

Place of Origin:

Japan