Ginkgo Biloba Extract Capsule
620 mg x 60
Nutritional Food Supplement
For A Healthy Mind and A Strong Memory

Dietary Supplement Containing
Ginkgo Biloba Leaf Extract
BRAND

Shiffa Home

PRODUCT

Dietary Supplement Contains Ginkgo Biloba

Ingredients of Dietary Supplement Contains Ginkgo Biloba (For 2 capsules)

Ginkgo biloba leaf(750mg), Ginkgo biloba leaf extract(250mg), Vegetable capsules(Carrier-Hydroxypropyl methyl cellulose)

USAGE

Recommended to take 2 times daily by 1 capsule before or after the meal times.

CAUTION

Store away from heat, light and moisture. Keep out of reach of children.

INFORMATION

- Made in Turkey

- Consumed as a Dietary Supplement.

- Do not exceed the recommended intake daily.

- Food supplements do not replace the normal daily feeding.

- Not for medicinal use in any treatment and healing purpose.

If you are pregnant, nursing, taking any medication or have any medical condition, please consult your doctor before taking any food supplement.

BARKOD

8690088004308

PACKAGE

620 mg x 60 capsules =37.2 g e

Carton : 6 bottles
FOR A HEALTHY MIND, A STRONG MEMORY
Inside the Ginko biloba, there are components which help to enlarge blood vessels, increase blood circulation and prevent coagulation.
With the help of these components, it increases the oxygen level in brain. With its tissue regenerating characteristic, it is known to be used commonly for improving the memory functions.
It has been found out that ginkgo biloba prevents the development of Alzheimer's disease during the earlier stages of the illness.
Suggested Use: For adults, recommended to take twice daily by 1 capsule each time on a full or empty stomach.
CAUTION: While using with medicines that have high blood-thinning effect (like warfarin, heparin) Gingko biloba should only be used under the supervision of a doctor.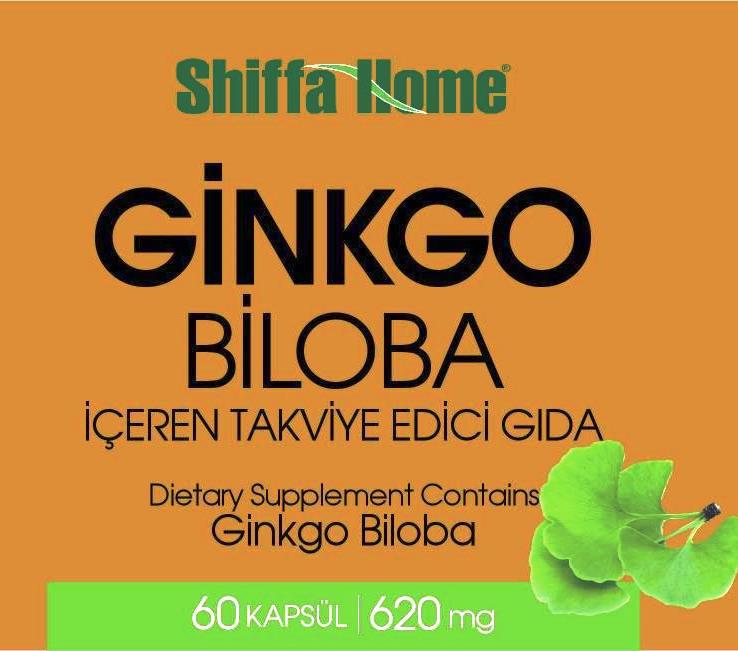 Ginkgo Biloba Benefits
Ginkgo biloba, also known as Maidenhair, has been traced back nearly 300 million years making it the oldest surviving tree species on earth! The Chinese have used the plant medicinally for eons but many of the modern applications come from the research of German scientists. Ginkgo is a prescription herb in Germany.
Ginkgo Biloba is especially good when combined with Panax Ginseng.
Ginkgo extract has proven benefits to elderly persons. This ancient herb acts to enhance oxygen utilization and thus improves memory, concentration, and other mental faculties. The herbal extract has also been shown to significantly improve long-distance vision and may reverse damage to the retina of the eye. Studies have also confirmed its value in the treatment of depression in elderly persons. The ginkgo extract may provide relief for persons with headache, sinusitis, and vertigo. It may also help relieve chronic ringing in the ears known as tinnitus.
In studies, Ginkgo biloba has been reported as demonstrating anti-oxidant abilities with improvements of the platelet and nerve cell functions and blood flow to the nervous system and brain. It has also been reported as reducing blood viscosity. It's ability to increase vascular dilation, may help reduce retinal damage due to macular degradation and may reverse deafness caused by reduced blood flow.
Recently, extensive research on the herb has been conducted on the healing properties of the leaf extract. Germany and France have run literally hundreds of studies on the leaf extract. These studies along with similar studies in America, have shown significant results. The extract of Ginkgo biloba has been studied for its effectiveness in the treatment of Acrocyanosis, Alzheimer's disease, Cerebral atherosclerosis, Cerebral insufficiencies, Cochlear deafness, Dementia, Depression, Menopause, Peripheral and cerebral circulatory stimulation, Peripheral vascular disease, Raynaud's syndrome, Retinopathy, Senility, Short-term memory loss, Tinnitus, Vascular Diseases, and Vertigo.
It is said to be effective in improving the blood flow to the hands and the feet as well as stimulating the brain and reducing short-term memory loss. It increases blood flow to the brain, the uptake of glucose by brain cells, and has been said to improve the transmission of nerve signals.
Depression
Patients suffering from varying degrees of vascular insufficiency also noted an improvement in mood while taking ginkgo biloba extract. This has prompted a surge of interest in its use as a treatment for depression, especially in the elderly. Many people have found GBE to enhance other depression treatments and to often even prevent the need for pharmaceutical treatments in mild cases of depression. Those under the age of fifty may also benefit from ginkgo biloba's antidepressant effects. So far though, the greatest level of improvement has been noted with older patients.
Alzheimer's & Mental Function
As more than 300 studies demonstrate, ginkgo facilitates better blood flow through out the body, most notably the brain, where it both protects and promotes memory and mental function, even for people with Alzheimer's disease. It also offers a wealth of possibilities in the treatment of many other common ailments.
Alzheimer's
Since doctors are still not sure what causes Alzheimer's disease, we do not have a definite idea of how ginkgo works to stabilise, and in some cases, improve the quality of life for those suffering from this degenerative disease. Scientists have noted that Alzheimer's is marked by a major loss of nerve cells in the brain, particularly those in areas controlling memory and thinking. Since doctors have found antioxidants to help slow the destruction of nerves, it is not a stretch to see ginkgo's antioxidant properties helping in this area. The disease is also believed to have a connection to decreased blood flow to the brain. If so, ginkgo's vasodilating effects may be a big help in the treatment process. Either way, prominent doctors and scientists believe ginkgo to be the supplement of choice to help hold off and possibly treat Alzheimer's.
Antioxidant Properties
Although oxygen is essential for life, it can have adverse effects on your body. Unstable oxygen molecules can often be created during our body's normal break down and use of oxygen or can form in response to external factors and pollutants. These unstable molecules, called free radicals, can damage cells and structures within cells. If the genetic material in cells is affected and not repaired, it can replicate in new cells, contributing to cancer and other health problems. These free radicals may also weaken artery walls, allowing fatty deposits that can lead to hear disease. As an antioxidant, ginkgo biloba combats free radicals and repairs molecular damage. A great deal of research suggests that antioxidants such as GBE may play important roles in preventing or delaying heart disease, cancer and other ills. Antioxidants may even halt the damage to cells, thereby slowing the effects of aging.
Impotency
Another use for ginkgo biloba is in the treatment of impotency. The main cause of male impotence is poor circulation and impaired blood flow through the penis, which is often the result of atherosclerosis. Since ginkgo biloba increases blood flow, it's been found to help up to fifty percent of patients after six months of use.
Raynaud's disease
Raynaud's disease is believed to be caused by blood vessels that over react to the cold and spasm, reducing blood flow and there by depriving extremities of oxygen. Ginkgo biloba may help this condition by widening the small blood vessels, which would keep these spasms from completely blocking the blood flow.
Parkinson's Disease
The lack of dopamine is believed to produce the progressive stiffness, shaking and loss of muscle coordination typical in Parkinson's disease. Doctor's theorise that along with other treatments, Ginkgo biloba may help symptoms by increasing the brain's blood flow and thereby allowing more of the depleted dopamine to be circulated to the areas that need it most.
Other Conditions
Other uses for which ginkgo biloba extract is often recommended include depression, diabetes related nerve damage and poor circulation, allergies, vertigo, short-term memory loss, headache, atherosclerosis, tinnitus, cochlear deafness, macular degeneration, diabetic retinopathy, and PMS.
Strokes
Scientists continue to study the prevention and treatment benefits to stroke patients that are attributed to GBE. It's believed that by preventing blood clots from developing and increasing the blood flow to the brain, ginkgo biloba may help stop strokes from occurring. It's also believed that the herb inhibits free-radical damage of brain cells after a stroke.
Multiple sclerosis & Organ transplant
GBE also appears to have an anti-inflammatory action that may make it valuable in the future for conditions such as multiple sclerosis and organ transplants.
Package : 620 mg x 60 Capsule (with extract)
Carton : 6 bottles
AKSU VITAL COMPANY PROFILE

Name of the Company

AKSU VITAL NATURAL AND HEALTHY FOOD & COSMETIC PRODUCTS CO.

Address

Kavakli Mah. Kuzey Cad. No: 5 , Beylikduzu - ISTANBUL / TURKIYE

Tel

00 90 212 671 55 47 (Pbx)

Fax

00 90 212 671 55 28

Website

www.aksuvital.com.tr

Contact

Mr. Sadik Yuksel Export Manager

Status of the Company

Manufacturer & Exporter

Year of Foundation

1989

Production Site (M2)

: 10.000 M2 Covered Area.

Products Range

For Hyper & Supermarkets :
1) Honey Group :

Multi-Flowery, Pine and Chestnut Honey , Practical Use, Comb Honey and Special High Plateau Honey

2) Molasses :

Grape, Mulberry, Carob Molasses Juniper and Apricot Molasses , Date Molasses etc.

3) Herbal Teas :

7 functional herbal mixed teas and 16 single herbal teas.

4) Other items:

Vitalest gel and herbal mixtures for sportmen , New ones coming soon.

For Herbal and Spice-selling Shops :
1) Slimming Products Group

: Avicenna Forms in Paste & Powder , Herbal Slimming Tea ,

2)

Apicultural Products

: Unadulterated Creamy Royal Jelly , Untreated Bee Pollen in Granules , Bee Propolis.

3)

Herb+Spices+Honey Mixtures

: Power Pastes for adults & Kids. Honey+Bitter Melon+Some Herbs Mixture (especially for gastritis , stomach patients) for Bronchitis & Hemorrhoid complaints , Weight-controle Paste etc.

4)

Vitality Products

: Honey+Pollen+Royal Jelly+Ginseng+Propolis Mixtures for Men , Women and Kids.

5)

Herbal Aromatic Waters

: Aromatic Thyme Water , Nettle Water , Chamomile Water , Rose Water , Lavender Water , Aniseed Water , Rosemary Water , Sage Water , Marjoram Water , Olive Leaf Water , Peppermint Water

6) Ground Products :

Ground Grape Seeds , Flax Seeds , Nettle Seeds , Nigella Seeds , Milk Thistle , St. John's Wort etc..

For Pharmacies & Health Stores :
1) Tablets

: Royal Jelly in Tablets , Red Ginseng in Tablets , AksuVit Tablets , Glucosamine&Chondroitine Tablets

2) Capsules

: Gingko Biloba, Grape Seed, Pollen, Fitoform, Propolis, MDA Capsules, Relax, Garlic, Artichoke, Echinacea, Milk Thistle, Ginseng, Herbs-Spices Mixtured Capsules with Bitter Melon and Propolis , Spirulina, Pomegranate Seed, Green Tea, St.John's Wort , Valerian Root, Hawthorne Capsules , Prostate capsules , Hemorrhoid capsules , Migraine capsules , Blood making capsules , Omega-3 Softgel , Nigella Seed oil in Softgel capsule , Olive oil in Softgel capsules

3) Syrups & Sprays :

ProViteC syrup for immune system , Omega 3 Syrup , MultiVitamin Syrup for kids , FerroViteC syrup , Rose Water Spray , Lavender Water , Rosemary water Spray , Jasmine Flower Water Spray.

4) Natural Single Oils:

Trout Oil, Sweet Almond, Walnut, Pine Turpentine , Black Sesame, Flax Seed, Cocoa, Garlic, Seed, Grape Seed, Mustard , Pumpkin Seed , St.John's Wort , Castorbean , Avocado, Carrot Seed, Coconut, Wheat Germ, Nettle Seed, Apricot Kernel, Garlic, Jojoba, Melissa, Juniper , Clove , Lavander , Sage , Peppermint, Orange, Eucalyptus, Violet, Rosemary, Laurel Leaf, Chamomile , Balsam oil , Lemon Kernel , Fennel , Jasmine , Ginger , Thyme, Rose , Marigold , Sandalwood , Blue Anemone , Olive , Hazelnut , Pomegranate Seed , Sage , Argan oils etc...

4) Care Oils:

RMT oil (for Rheumatism) , Hair Care oil , Skin care oil , BSR oil (for Hemorrhoid) , Anti-Cellulite oil , Sun Block oil , Cabbage oil for adults and Gas Remover oil for Babies ,

5) Soaps :

Fibrous soap with Honey & R.Jelly , Apricot oil-Soap , Nettle oil-Soap , Bittim oil-Soap, Almond oil-Soap , Sulphur Soap , Natural Sponge-Soaps (7 types) , Cold Pressed-Soaps (12 types)

6) Creams :

Care creams with Honey & Royal Jelly , with Blue Anemon , with Apricot oil , with Almond oil and Synake Eye Contour creams , Grape seed cream , Snail cream , Calendula Cream , Limon kernel oil-Cream , Day care cream.

7) Shampoos :

Care Shampoo with Honey & R. Jelly , Shampoo with Olive and Daphne oil , Nettle & Garlic Shampoos.

Online Catalogs

AVICENNA Herbal & Food Supplements

www.aksuvital.com/ekatalog/aksuvital

SHIFFA HOME Natural & Herbal Aromatic Oils

www.aksuvital.com/ekatalog/yaglar

SOFTEM Natural Caring Series

www.aksuvital.com/ekatalog/softem

AKSUVITAL NATURAL products

www.aksuvital.com/ekatalog/aksuvitaleng

AROMATIC HERBAL WATERS

www.aksuvital.com/ekatalog/herbalwaters

Main Export Items

Honey Group , Nutritious Power Pastes , Slimming Products , Mixtured Nuts with Honey , Molasses , Apicultural Products , Honey+R.Jelly+Polen Mixtures , Aromatic Water Varieties , Pomegranate Sauces , Herbal Teas , Pharmaceutical Products such as Syrups , Capsules &Tablets, Natural Aromatic and Massage Oils , Creams , Soaps , Shampoos.

Main Export Markets

Germany , England , Libya , USA , Algeria , Jordan , U.A.E. , S.Arabia , Poland , Canada , North Cyprus , Kuwait , Iraq , Azerbaijan , Holland , Tunisia , Yemen , Australia , France , Malaysia , Bahrain , Qatar , Russia.

International Fairs Participated

1 )

ANUGA

in Cologne / GERMANY

2 )

SIAL

in Paris / FRANCE

3 )

FANCY FOOD

in New York / USA

4 )

SIAL MIDDLE EAST

, Abu Dhabi / S. ARABIA

5 )

BEAUTY WORLD COSMETIC EXPO

in Dubai / U.A.E.

6 )

SIAL CHINA

, Shangai - CHINA

7 )

ISTANBUL FOOD EXPO

- Istanbul / TURKIYE

8)

BEAUTY EURASIA COSMETIC EXPO

, Istanbul / TURKEY

Global Acceptability of the Products

We have the following Certifications internationally ;

1 ) ISO 9001 and ISO 22000 Certificates

2) GMP Good Manufacturer Practices Certificate

3 )

HACCP

(Hazard Analysis of Critical Control Points) by WCS.

4 ) International

Gold Star

For Quality by Business Initiative Directions (BID) in 2002.

5 )

FDA No

: 18806943380 (Food and Drug Administration of USA).

6 )

TSE

(Turkish Standards Institute for Quality)

Our Brands

AKSU VITAL

: Generally used for basic products.

AVICENNA

: Food & Nutritional Supplements in Capsules , Tablets and Syrups for Pharmacies.

SHIFFA HOME

: Tablets,Capsules&Aromatic Oils for Herbal & Spice Selling Shops&Pharmacies and herbal teas.

VITALEST :

Items for Sportmen

SOFTEM

: For personal care creams , soaps , shampoos and massage oils.

Commercial Presence in the Local Market

Aksu Vital has 40 distributors in countrywide. Additionally , Aksu Vital Natural & Healthy Products can be easily found at more than 3500 sales points throughout Turkey , including Cosmetic and Health Stores , Herbal and Pharmacy shops.
We can develop your private label. OEM service available. Please contact for more details.