1. Product Name: Acetylpyrazine
2. Synonym: ACETYLPYRAZINE;ACETYLPYRAZINE, 2-;2-ACETYLPYRAZINE;1-PYRAZIN-2-YLETHAN-1-ONE;1-PYRAZIN-2-YL-ETHANONE;METHYL PYRAZINYL KETONE;METHYL-2-PYRAZINYL KETONE;FEMA 3126
3. CAS No.: 22047-25-2
4. Molecular Formula: C6H6N2O
5. Molecular Weight: 122.12
6. EINECS No.: 244-753-5
7. Chemical Structure: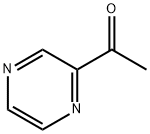 8. Melting Point: 76-78℃
9. Boiling Point: 78-79°C 8mm
10. Density: 1.1075
11. FEMA: 3126 | ACETYLPYRAZINE
12. Refractive Index: 1.5350 (estimate)
13. Flash Point:78-79°C/8mm
14. Application: Used in baked goods, peanuts, sesame, meat, tobacco etc.
15. Specifications:
Appearance: White or slightly yellowish acicular crystal
Purity(≥w%): 99
Odor: Popcorn Aroma, Roast Aroma, Tobacco Aroma
Shelf Life: One year since the date of packing in case of not opening the original package.
Storage: Store it in versatile place, in an air-tight and light-resistant container; avoid heat and moisture.