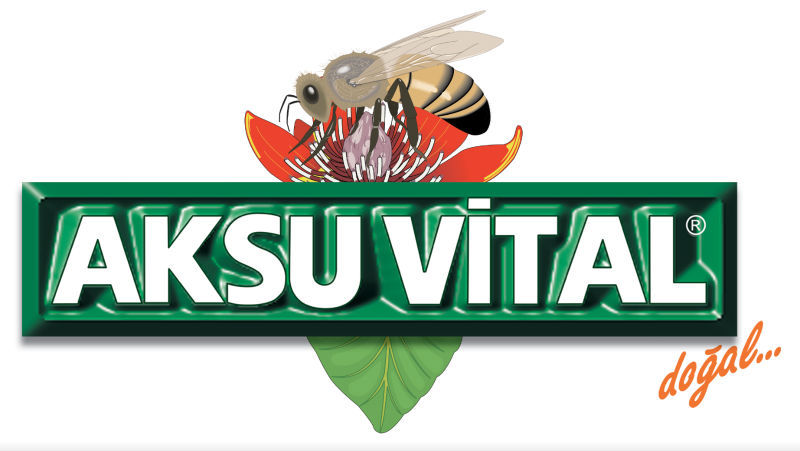 Apple Cider Vinegar
Health Benefits
GMP Certified
500 ml Glass Bottle
Composition: calcium, fluoride, potassium, magnesium, sodium, phosphorus, silicon, vitamin A, beta-carotene, vitamins B1, B2, and B6, vitamin C, acetic acids, fruit acids, pectin, and natural flavorings.
Apple cider vinegar has more benefits than other vinegars. Pectin contained in the apple lowers the blood cholesterol and reduces the calcification in the blood vessels.
It could help to lower the triglycerides. Thanks to potassium which the vinegar contains, all muscle structure, including the heart strengthens. It is digestive. It could also provide help for weight loss.
Apple cider vinegar contains more minerals and vitamins compared to regular vinegar. Thanks to the minerals it contains, apple cider vinegar protects the body's balance.
High amount of calcium in the apple vinegar provides endurance for osteoporosis that might develop at older ages. It is the bicarbonate ions in the content of the apple that facilitate digestion.


Health Benefits of Apple Cider Vinegar
For centuries, vinegar has been used for various household and cooking purposes.
It is also an ancient folk remedy, claimed to help with all sorts of health problems.
The most popular vinegar in the natural health community is Apple Cider Vinegar.
It is claimed to lead to all sorts of beneficial effects… some of which are supported by science.
This includes weight loss, lower blood sugar levels and improved symptoms of diabetes.
Here are 6 health benefits of apple cider vinegar, that are supported by scientific research.
1. Apple Cider Vinegar is High in Acetic Acid, Which Has Potent Biological Effects
Vinegar is made in a two-step process, related to how alcohol is made .
The first step exposes crushed apples (or apple cider) to yeast, which ferment the sugars and turn them into alcohol.
In the second step, bacteria are added to the alcohol solution, which further ferment the alcohol and turn it into acetic acid… the main active compound in vinegar.
In French, the word "vinegar" actually means "sour wine."
Organic, unfiltered apple cider vinegar (like Bragg's) also contains "mother," strands of proteins, enzymes and friendly bacteria that give the product a murky, cobweb-like appearance.
Unfiltered Apple Cider Vinegar With Mother
Some people believe that the "mother" is responsible for most of the health benefits, although there are currently no studies to support this.
Apple cider vinegar only contains about 3 calories per tablespoon, which is very low.
There are not many vitamins or minerals in it, but it does contain a tiny amount of potassium. Quality apple cider vinegar also contains some amino acids and antioxidants.
Bottom Line: Apple cider vinegar is made by fermenting the sugars from apples. This turns them into acetic acid, the active ingredient in vinegar.
2. Acetic Acid is a Potent Antimicrobial and Can Kill Some Types of Bacteria
Vinegar can help kill pathogens, including bacteria.
It has traditionally been used for cleaning and disinfecting, treating nail fungus, lice, warts and ear infections.
However, many of these applications have currently not been confirmed by research.
Hippocrates, the father of modern medicine, used vinegar for wound cleaning over two thousand years ago.
Vinegar has been used as a food preservative, and studies show that it inhibits bacteria (like E. coli) from growing in the food and spoiling it.
If you're looking for a natural way to preserve your food… then apple cider vinegar could be highly useful.
There have also been anecdotal reports of diluted apple cider vinegar helping with acne when applied on the skin, but I didn't find any research to confirm this so take it with a grain of salt.
Bottom Line: The main substance in vinegar, acetic acid, can kill bacteria and/or prevent them from multiplying and reaching harmful levels. It has a history of use as a disinfectant and natural preservative.
3. Apple Cider Vinegar May Lower Blood Sugar Levels, Which is Very Useful For Diabetics
By far the most successful application of vinegar to date, is in patients with type 2 diabetes.
Apples and Vinegar
Type 2 diabetes is characterized by elevated blood sugars, either in the context of insulin resistance or an inability to produce insulin.
However, elevated blood sugar can also be a problem in people who don't have diabetes… it is believed to be a major cause of ageing and various chronic diseases.
So, pretty much everyone should benefit from keeping their blood sugar levels stable.
The most effective (and healthiest) way to do that is to avoid refined carbs and sugar, but apple cider vinegar may also have a powerful effect.
Vinegar has been shown to have numerous benefits for insulin function and blood sugar levels:
Improves insulin sensitivity during a high-carb meal by 19-34% and significantly lowers blood glucose and insulin responses.
Reduces blood sugar by 34% when eating 50 grams of white bread .
2 tablespoons of apple cider vinegar before bedtime can reduce fasting blood sugars by 4%.
Numerous other studies, in both rats and humans, show that vinegar can increase insulin sensitivity and significantly lower blood sugar responses during meals .
For these reasons, vinegar can be useful for people with diabetes, pre-diabetes, or those who want to keep their blood sugar levels low to normal for other reasons.
If you're currently taking blood sugar lowering medications, then check with your doctor before increasing your intake of apple cider vinegar.
Bottom Line: Apple cider vinegar has shown great promise in improving insulin sensitivity and helping to lower blood sugar responses after meals.
4. There Are Some Studies Showing That Apple Cider Vinegar Can Help With Weight Loss
Given that vinegar lowers blood sugar and insulin levels, it makes sense that it could help you lose weight.
Several human studies suggest that vinegar can increase satiety, help you eat fewer calories and even lead to actual pounds lost on the scale.
Vinegar along with high-carb meals can increase feelings of fullness and make people eat 200-275 fewer calories for the rest of the day.
By reducing calorie intake, this should translate to reduced weight over time.
A study in obese individuals showed that daily vinegar consumption led to reduced belly fat, waist circumference, lower blood triglycerides and weight loss :
15mL (1 tablespoon): Lost 2.6 pounds, or 1.2 kilograms.
30mL (2 tablespoons): Lost 3.7 pounds, or 1.7 kilograms.
However… keep in mind that this study went on for 12 weeks, so the true effects on body weight seem to be rather modest.
That being said, just adding/subtracting single foods or ingredients rarely has a noticeable effect on weight.
It's the entire diet/lifestyle that counts… you need to combine several effective methods to see results.
Overall, it seems like apple cider vinegar may be useful as a weight loss aid, mainly by promoting satiety and lowering glucose and insulin levels.
But it won't work any miracles on its own.
Bottom Line: Studies suggest that vinegar can increase feelings of fullness and help people eat fewer calories, which can lead to weight loss.
5. Apple Cider Vinegar May Have Some Benefits For Heart Health
Cardiovascular disease (heart disease and stroke) is currently the world's biggest cause of death.
It is known that several measurable biological factors are linked to either a decreased or increased risk of cardiovascular disease.
Several of these "risk factors" have been shown to be improved by vinegar consumption… but all of the studies were done in rats.
These rat studies showed that apple cider vinegar can lower cholesterol and triglyceride levels.
Apple cider vinegar may also contain the antioxidant chlorogenic acid, which has been shown to protect LDL cholesterol particles from becoming oxidized, a crucial step in the heart disease process.
There are also some studies showing that vinegar reduces blood pressure (a major risk factor) in rats .
Unfortunately, what works in animals doesn't always work in Humans.
The only human evidence is an observational study from Harvard showing that women who ate salad dressings with vinegar had a reduced risk of heart disease.
But this type of study can only show an association, it can not prove that the vinegar caused anything.
Bottom Line: Several animal studies have shown that vinegar can reduce blood triglycerides, cholesterol and blood pressure, but this needs to be confirmed in human studies.
6. Vinegar May be Protective Against Cancer
Decanter With Apple Cider Vinegar
Cancer is a terrible disease, characterized by uncontrolled growth of cells.
There is a lot of hype online about the anti-cancer effects of apple cider vinegar.
Some studies have shown that vinegar can kill cancer cells and shrink tumors
However, all of the studies on this were done in isolated cells in test tubes, or rats, which proves nothing about what happens in a living, breathing human.
Additionally, most of the studies were done on rice vinegar, not apple cider vinegar.
That being said, some observational studies (which don't prove anything) have shown that vinegar ingestion is linked to decreased esophageal cancer in China, but increased bladder cancer in Serbia.
Overall… it is possible that apple cider vinegar may help to prevent cancer, but it is definitely premature to make any recommendations based on the current research.
Bottom Line: Some studies in test tubes and rats have shown that rice vinegar can slow the growth of cancer cells and shrink tumors.
Side Effects, Dosage and How to Use it
There are a lot of wild claims about apple cider vinegar on the internet.
Some say that it can increase energy levels and have all sorts of beneficial effects on health.
Unfortunately… many of these claims are not supported by science.
Of course, absence of proof isn't proof that something isn't happening and anecdote often ends up becoming supported by science down the line.
That being said, I wouldn't hold my breath waiting for more studies, since research on natural health products like these are both few and far between.
From the little evidence available, I think that apple cider vinegar may be useful and is definitely a good candidate for some self-experimentation if you're interested in it.
At the very least, apple cider vinegar seems to be safe. There are no side effects noted with normal consumption.
The best way to incorporate it into your diet is to use it in your cooking… for salad dressings, mayonnaise and that sort of thing.
Some people also like to dilute it in water and drink it as a beverage. Common dosages range from 1-2 teaspoons (5-10 mL) to 1-2 tablespoons (15-30 mL) per day.
Definitely don't go above that, because excess consumption may have harmful effects.
It is also possible to take it in pill/tablet form, but I don't recommend that because a 2005 study showed that the true vinegar content of these supplements was highly questionable.
There is also a report of a woman having an apple cider vinegar tablet stuck in her throat, which led to esophageal burns.
It is recommended to use organic, unfiltered apple cider vinegar with the "mother."
Bragg's seems to be the most popular option, which is available on Amazon with tons of interesting testimonials and reviews that are fun to browse through.
Apple cider vinegar also has various other non-health related uses like hair conditioning, skin care, dental care, pet use and as a cleaning agent (to name a few).
These can be highly useful for people who like to keep things as natural and chemical-free as possible.
At the end of the day, apple cider vinegar appears to be very healthy.
It's not a "miracle" or a "cure-all" like some people seem to believe, but it does clearly have some important health benefits, especially for blood sugar and weight control.
Package : 500 ml glass bottle
Carton : 12 glass bottles
AKSU VITAL COMPANY PROFILE

Name of the Company

AKSU VITAL NATURAL AND HEALTHY FOOD & COSMETIC PRODUCTS CO.

Address

Kavakli Mah. Kuzey Cad. No: 5 , Beylikduzu - ISTANBUL / TURKIYE

Tel

00 90 212 671 55 47 (Pbx)

Fax

00 90 212 671 55 28

Website

www.aksuvital.com.tr

Contact

Mr. Sadik Yuksel Export Manager

Status of the Company

Manufacturer & Exporter

Year of Foundation

1989

Production Site (M2)

: 10.000 M2 Covered Area.

Products Range

For Hyper & Supermarkets :
1) Honey Group :

Multi-Flowery, Pine and Chestnut Honey , Practical Use, Comb Honey and Special High Plateau Honey

2) Molasses :

Grape, Mulberry, Carob Molasses Juniper and Apricot Molasses , Date Molasses etc.

3) Herbal Teas :

7 functional herbal mixed teas and 16 single herbal teas.

4) Other items:

Vitalest gel and herbal mixtures for sportmen , New ones coming soon.

For Herbal and Spice-selling Shops :
1) Slimming Products Group

: Avicenna Forms in Paste & Powder , Herbal Slimming Tea ,

2)

Apicultural Products

: Unadulterated Creamy Royal Jelly , Untreated Bee Pollen in Granules , Bee Propolis.

3)

Herb+Spices+Honey Mixtures

: Power Pastes for adults & Kids. Honey+Bitter Melon+Some Herbs Mixture (especially for gastritis , stomach patients) for Bronchitis & Hemorrhoid complaints , Weight-controle Paste etc.

4)

Vitality Products

: Honey+Pollen+Royal Jelly+Ginseng+Propolis Mixtures for Men , Women and Kids.

5)

Herbal Aromatic Waters

: Aromatic Thyme Water , Nettle Water , Chamomile Water , Rose Water , Lavender Water , Aniseed Water , Rosemary Water , Sage Water , Marjoram Water , Olive Leaf Water , Peppermint Water

6) Ground Products :

Ground Grape Seeds , Flax Seeds , Nettle Seeds , Nigella Seeds , Milk Thistle , St. John's Wort etc..

For Pharmacies & Health Stores :
1) Tablets

: Royal Jelly in Tablets , Red Ginseng in Tablets , AksuVit Tablets , Glucosamine&Chondroitine Tablets

2) Capsules

: Gingko Biloba, Grape Seed, Pollen, Fitoform, Propolis, MDA Capsules, Relax, Garlic, Artichoke, Echinacea, Milk Thistle, Ginseng, Herbs-Spices Mixtured Capsules with Bitter Melon and Propolis , Spirulina, Pomegranate Seed, Green Tea, St.John's Wort , Valerian Root, Hawthorne Capsules , Prostate capsules , Hemorrhoid capsules , Migraine capsules , Blood making capsules , Omega-3 Softgel , Nigella Seed oil in Softgel capsule , Olive oil in Softgel capsules

3) Syrups & Sprays :

ProViteC syrup for immune system , Omega 3 Syrup , MultiVitamin Syrup for kids , FerroViteC syrup , Rose Water Spray , Lavender Water , Rosemary water Spray , Jasmine Flower Water Spray.

4) Natural Single Oils:

Trout Oil, Sweet Almond, Walnut, Pine Turpentine , Black Sesame, Flax Seed, Cocoa, Garlic, Seed, Grape Seed, Mustard , Pumpkin Seed , St.John's Wort , Castorbean , Avocado, Carrot Seed, Coconut, Wheat Germ, Nettle Seed, Apricot Kernel, Garlic, Jojoba, Melissa, Juniper , Clove , Lavander , Sage , Peppermint, Orange, Eucalyptus, Violet, Rosemary, Laurel Leaf, Chamomile , Balsam oil , Lemon Kernel , Fennel , Jasmine , Ginger , Thyme, Rose , Marigold , Sandalwood , Blue Anemone , Olive , Hazelnut , Pomegranate Seed , Sage , Argan oils etc...

4) Care Oils:

RMT oil (for Rheumatism) , Hair Care oil , Skin care oil , BSR oil (for Hemorrhoid) , Anti-Cellulite oil , Sun Block oil , Cabbage oil for adults and Gas Remover oil for Babies ,

5) Soaps :

Fibrous soap with Honey & R.Jelly , Apricot oil-Soap , Nettle oil-Soap , Bittim oil-Soap, Almond oil-Soap , Sulphur Soap , Natural Sponge-Soaps (7 types) , Cold Pressed-Soaps (12 types)

6) Creams :

Care creams with Honey & Royal Jelly , with Blue Anemon , with Apricot oil , with Almond oil and Synake Eye Contour creams , Grape seed cream , Snail cream , Calendula Cream , Limon kernel oil-Cream , Day care cream.

7) Shampoos :

Care Shampoo with Honey & R. Jelly , Shampoo with Olive and Daphne oil , Nettle & Garlic Shampoos.

Online Catalogs

AVICENNA Herbal & Food Supplements

www.aksuvital.com/ekatalog/aksuvital

SHIFFA HOME Natural & Herbal Aromatic Oils

www.aksuvital.com/ekatalog/yaglar

SOFTEM Natural Caring Series

www.aksuvital.com/ekatalog/softem

AKSUVITAL NATURAL products

www.aksuvital.com/ekatalog/aksuvitaleng

AROMATIC HERBAL WATERS

www.aksuvital.com/ekatalog/herbalwaters

Main Export Items

Honey Group , Nutritious Power Pastes , Slimming Products , Mixtured Nuts with Honey , Molasses , Apicultural Products , Honey+R.Jelly+Polen Mixtures , Aromatic Water Varieties , Pomegranate Sauces , Herbal Teas , Pharmaceutical Products such as Syrups , Capsules &Tablets, Natural Aromatic and Massage Oils , Creams , Soaps , Shampoos.

Main Export Markets

Germany , England , Libya , USA , Algeria , Jordan , U.A.E. , S.Arabia , Poland , Canada , North Cyprus , Kuwait , Iraq , Azerbaijan , Holland , Tunisia , Yemen , Australia , France , Malaysia , Bahrain , Qatar , Russia.

International Fairs Participated

1 )

ANUGA

in Cologne / GERMANY

2 )

SIAL

in Paris / FRANCE

3 )

FANCY FOOD

in New York / USA

4 )

SIAL MIDDLE EAST

, Abu Dhabi / S. ARABIA

5 )

BEAUTY WORLD COSMETIC EXPO

in Dubai / U.A.E.

6 )

SIAL CHINA

, Shangai - CHINA

7 )

ISTANBUL FOOD EXPO

- Istanbul / TURKIYE

8)

BEAUTY EURASIA COSMETIC EXPO

, Istanbul / TURKEY

Global Acceptability of the Products

We have the following Certifications internationally ;

1 ) ISO 9001 and ISO 22000 Certificates

2) GMP Good Manufacturer Practices Certificate

3 )

HACCP

(Hazard Analysis of Critical Control Points) by WCS.

4 ) International

Gold Star

For Quality by Business Initiative Directions (BID) in 2002.

5 )

FDA No

: 18806943380 (Food and Drug Administration of USA).

6 )

TSE

(Turkish Standards Institute for Quality)

Our Brands

AKSU VITAL

: Generally used for basic products.

AVICENNA

: Food & Nutritional Supplements in Capsules , Tablets and Syrups for Pharmacies.

SHIFFA HOME

: Tablets,Capsules&Aromatic Oils for Herbal & Spice Selling Shops&Pharmacies and herbal teas.

VITALEST :

Items for Sportmen

SOFTEM

: For personal care creams , soaps , shampoos and massage oils.

Commercial Presence in the Local Market

Aksu Vital has 40 distributors in countrywide. Additionally , Aksu Vital Natural & Healthy Products can be easily found at more than 3500 sales points throughout Turkey , including Cosmetic and Health Stores , Herbal and Pharmacy shops.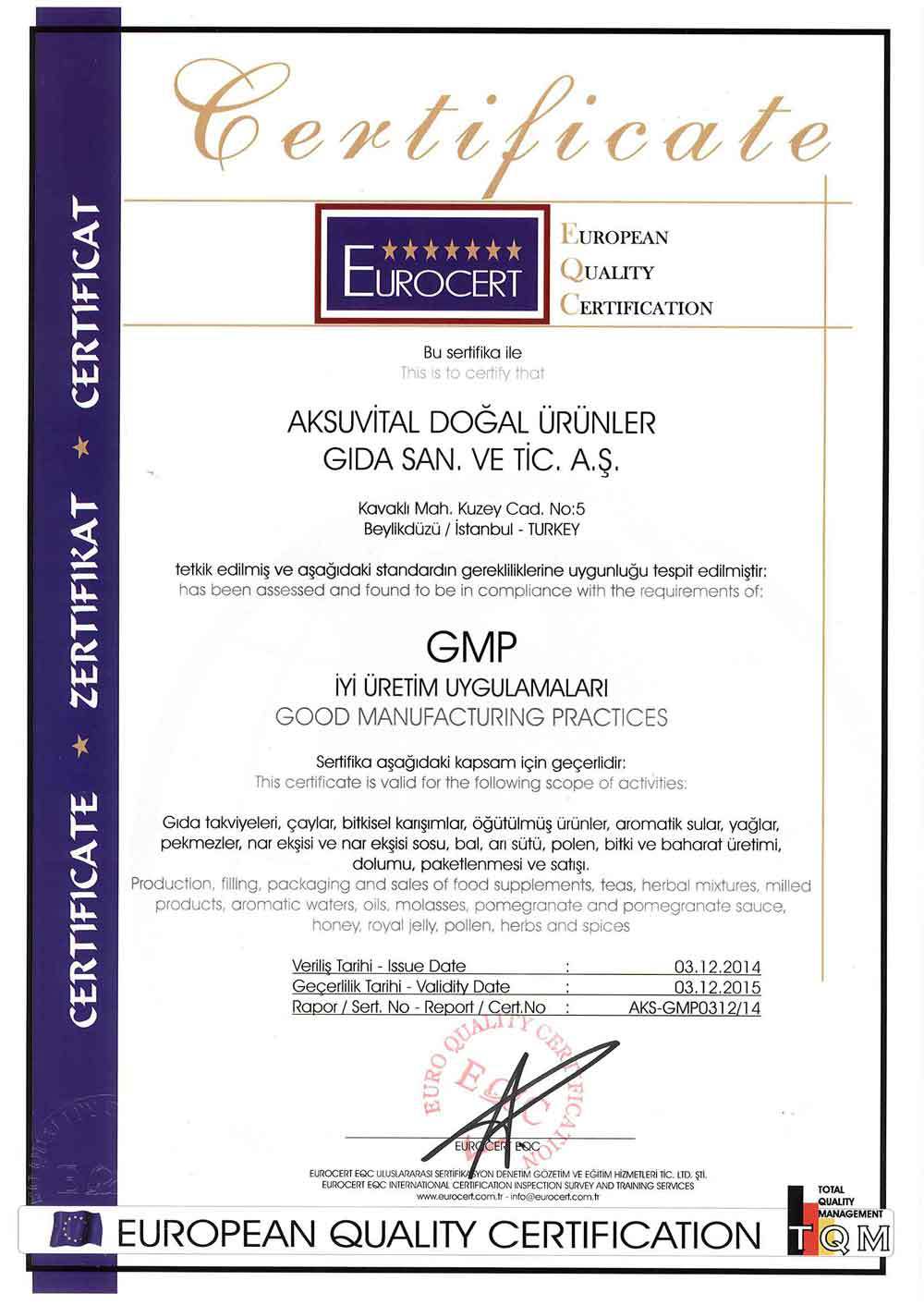 We can develop your private label. OEM service available. Please contact for more details.