PANGASIUS – BREADED
(Latin name: Pangasius Hypophthalmus)
Ø Fish fillet (60%) + bread scrumb (40%)
Ø Size: 100/150, 150/200, 200/300 (gr/pc)
Ø Packing:
+ IQF, 1kg x 10/PE with header/CTN (standard packing)
+ Bulk Pack, Shatterpack, Block : 5kg x 2/layer/CTN or 11 lbs x 2/layer/CTN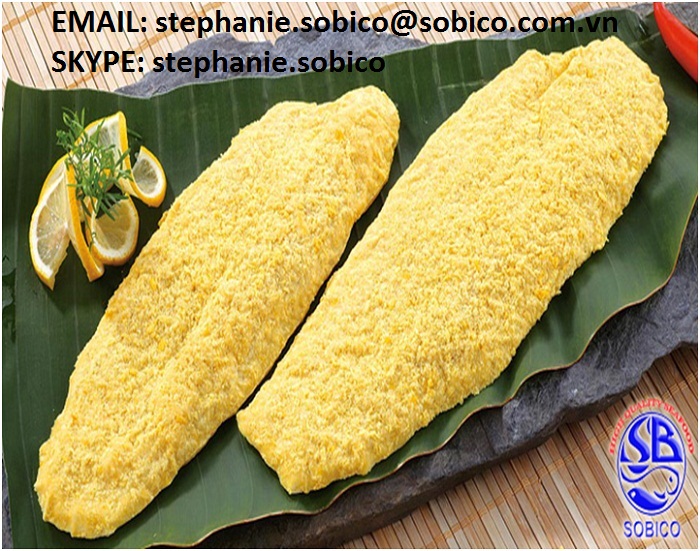 We are SONG BIEN CO., Ltd (SOBICO VN) – one of the professional seafood processor and exporter from Viet Nam.
We are carrying a broad variety of products as below:
- Pangasius (other names: tra & basa, dory, sutchi, sushi, swai, cat fish, white fish & river cobbler)
- Tilapia (Red Tilapia, Black Tilapia)
- Barramundi (seabass, giants perch, palmer perch)
- Pomfret, Indian Mackerel, Horse Mackerel
- Some value-added products (Red Snapper, Parrot fish, Mahi-Mahi, Snack-head fish, etc.)
We do fillet, HGT, whole round, roll, steak, sliced, portion, skewered, stripped, breaded, etc.
With over 10 years of experience in breeding and raising pangasius (tra & basa fish) in the Mekong Delta region (South Vietnam); barramundi (seabass) and fresh-water shrimps in the Central of Vietnam with many fish & shrimp pond as well as processing factory with updated machinery, equipment for freezing and cold storage, we provide high-quality products which fully satisfy the international food safety standard with competitive prices.
Our products are always strictly checked by NAFIQAD before shipment and our factory undergoes the harsh quality control systems which comprise: HACCP, HALAL, ISO 9001:2000, FDA, CFIA & EU export license (DL 448).
If you would be interested in importing from us, kindly contact me. It's my pleasure to serve your interest. I'm available at any time for any questions.
Thanks And Best Regards,
Stephanie Nguyen