Red Clover extract: Biochanin A
Plant Source: Trifolium pratense
Main Ingredient: Biochanin A
Molecular formula: C16H12O5
Molecular Weight: 284.26
Specification: 99% test by HPLC
Appearance: White powder
What is Red Clover extract?
Red clover is a member of the legume family – the same class of plants where we find chickpeas and soybeans. Red clover extracts are used as dietary supplements for their high content of isoflavone compounds – which possess weak estrogenic activity and have been associated with a variety of health benefits during menopause (reduction of hot flashes, promotion of heart health and maintenance of bone density).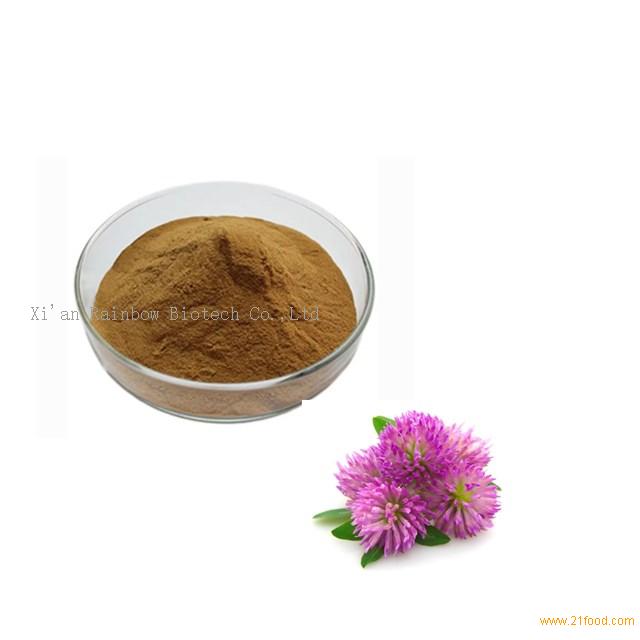 Where will be Biochanin A used to?
Elevates / balances moods
Improves sleeping patterns
Reduces hot flashes
Improves libido
Supports cardiovascular health
Promotes maintenance of bone mass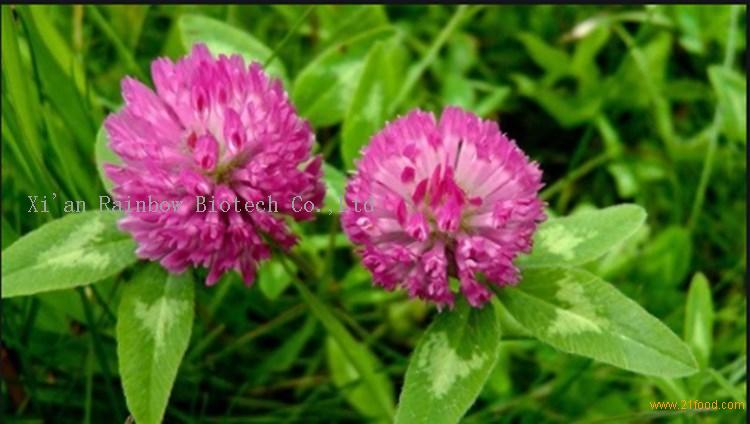 Function of Biochanin A:
1.For women, stimulate eostrogenic activity, increase fertility, and reduce hot flashes experienced by women during menopause
2.Anti-cancer
3.One of the most useful remedies for children with skin problems
4.Expectorant and anti-spasmodic
5.Relieve the syndrome of irritation and inflammation of urinary tract 6. Relieve constipation and help soothe inflammation of the bowel, stomach and intestines
Application of Biochanin A:
Pharmaceutical field,mainly used in preventing cancer,such as breast,prostate cancer and colon cancer.
Health product field,mainly used in improving osteoporosis and women's menopauses symptom.
FAQ
How can I get samples?
-We can provide 10~20 Grams free samples if you can pay for the shipping cost ,or have a collect NO like FEDEX or TNT etc.
What is the MOQ?
- usually the MOQ of most products is 1kg(Packed in aluminum foil bag or 25kgs(std packing in one drum), and we can also accept the sample order 100gs ,500gs or others .
What's the shipping way and delievery time?
---we can arrange the shipment within 2-7days,customized order lead time is according to the contract.
---By express ,fast and convenient ,door to door service ,usually takes 4-7days.suitable for 1-100kgs. By air,(also traceability) usually used for the goods with weight between 50kgs to 200kgs or more .More reasonable than express .usually takes 3-5days,and you need to clear the customs and pick up the goods at the airport.
----By sea.suitable for goods in large volume or weight ,it is cheaper much in cost however slower than other ways.