Normally, a baby starts taking a baby food three meals a day. The main nourishment moves from mother's milk and a baby milk to a baby food as becoming around nine months. It is important for a baby to supplement every balanced nutrients at this term of growth. "Gun-gun" is a follow-up milk that is suitable for alimentation up to three-years old baby. It is contains iron, vitamin C, and vitamin D plentifully that tends to be insufficient in milk.
Stick package (Portable): 14gx10
For a baby from 9 months to 3 years old
GunGun's features:
Be able to take nutrition healthily.
*enriched Iron: Iron is enriched compared with milk.
*oligosaccharide, DHA, nucleotide: oligosaccharide, DHA, nucleotide is needed for a baby' good nutrition.
*Protein: Whey Protein with good quality is more enriched before.
* Easy to shift from mother's milk or infant formula due to plain taste.
*Powder type: melt in water easily.
From 9 month to 3years old, Stick pack14gx10, Melt quickly.
Nutrition Facts
Energy 475kcal, Vitamin B1 0.7mg, Vitamin E 6mg, Calcium 650mg, Protein 14.3g, Vitamin B2 0.8mg, Vitamin K 10microgram, Phosphorus 400mg, Fat 20.0g , Vitamin B6 0.5microgram, Niacin 5.3mg, Iron 9.5mg, Carbohydrate 59.6g, Vitamin B12 1.5microgram, Folic acid 80 microgram, Potassium 680mg, Sodium 200mg, Vitamin C 50mg, Pantothenic Acid 5mg, Magnesium 65mg, Vitamin A 360 microgram, Vitamin D 5microgram, β-Carotene 30 microgram, Linoleic acid 2.7g,
Phospholipid 230mg, Cystine 500mg, α-Linolenic acid 0.3g, Nucleotide 6mg, Ash 3.7g, Docosahexaenoic acid(DHA) 50mg, Oligosaccharide 1g, Moisture 2.4g
Main Compound
Milk Constituent except Breast milk or other Dairy Products (lactose) 25.1%,
Fat except Milk fatty acid (palm oil, palm kernel oil fractions, purified soybean oil, purified fish oil, lecithin) 19.5%
Sugar except Lactose (dextrin (starch saccharification)) 14.7%
Compounding ratio
Milk Constituent 65.8%, Adjusted fat 19.5%, Dextrin 14.7%

Yield: 100ml per pack
Please wash your hands before and cook in clean place.
1. Pour 50ml hot water cooled around 50°C in a glass or a baby bottle.
2. Put a pack 14g in it, and stir well.
3. Pour water till 100ml level.
4. Stir well by spoon. Cool at proper temperature.


* Above table is a only average rate. Adjust the amount according to growth of a baby.
Ingredients:
fat-free milk, lactose, dextrin (saccharification of starch), protein concentration Hoeipauda, palm oil, palm kernel oil fractions, purified soybean oil, galactooligosaccharides liquid sugar, refined fish oil, salt, carbonate Ca, phosphate K, chloride, Mg, lecithin, VC, chloride, K, iron pyrophosphate, VE, pantothenic acid, Ca, cytidylic Na, niacin, VA, V.B1, V.B6, inosinic acid Na, uridylic acid Na, guanylic acid Na, V. B2, 5'-AMP, folic acid, carotene, VD,
*Nitrogen gas packaging for quality preservation.

Caution:
*Use completely without leaving after opening.
*Cook it each time, and do not give left-over drink.
*Avoid to store in a refrigerator.
*Avoid to heat milk in a microwave.
Only accept 100% T/T in advance at the first time.
WAKODO has the longest history as a maker of baby food and baby stuffs in Japan. Wakodo pharmacy founded in 1906 by Dr. Tsukasa Hirota, the first professor for pediatrics in Tokyo University, was the predecessor of WAKODO. After that, in 1917, WAKODO released Japanese milk powder for the first time in Japan.
A pioneer maker nursery items.
Baby food has helped with growth of a child since baby food named "Gris meer" was released in 1937. WAKODO will support baby with "GunGun" or baby food.
We will answer inquiries promptly.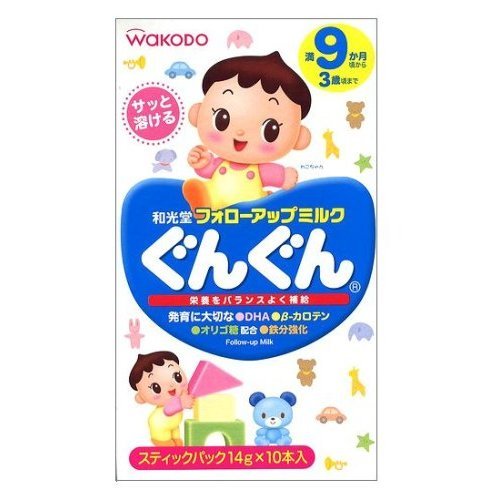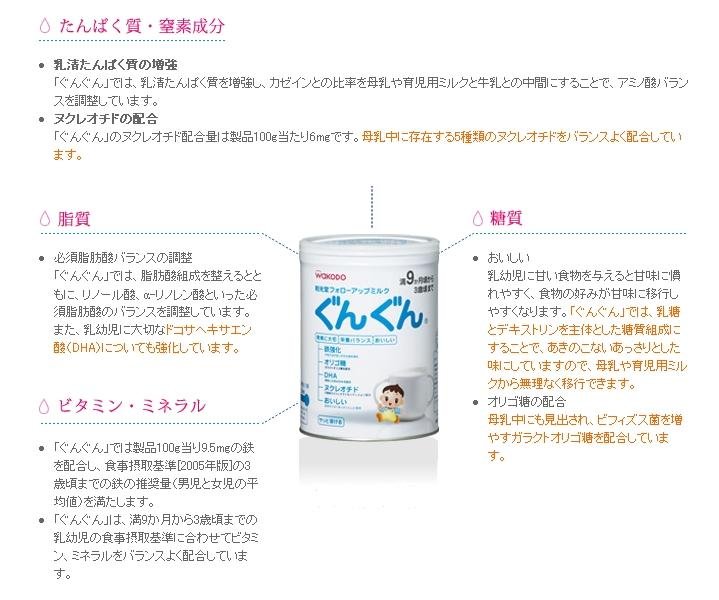 Product Type:

Infant Formula

Type:

Meals

Age:

9 months-

Packaging:

Box

Shelf Life:

Best if Sold by Packaging Date

Weight (kg):

Gross weight: 185g/per piece

Brand Name:

wakodo

Place of Origin:

Japan

Model Number:

Wakodo LXO22