------------------------------------------------------------------------------------------------
about us:
HNJOYTOYS CO.,LTD
1.we are a co. engage in this business for ten years , we have grasped the main craft process and created our special technics that others can not achieved. we are not normal. all our products is unique and elaborated outcomes.
2.we stick to the tenet"customer first" so that we got a good reputation and trust from our old and new client. it is a happy and easy experience to collaborate with us.
----------------------------------------------------------------------------------------------------------------------------------------------

| | |
| --- | --- |
| Material | 0.55mm Laminated Plato PVC tarpaulin, fire retardant and waterproof;double to quadruple needle sewing |
| Stitching | Double stitching & quadruple in areas of high tear and at every corner |
| Printing | Silk print, digital printing, or hand painting |
| Blower | CE or UL for different area using, plug can also be customized |
| Usage | advertisement, rental business, parties, clubs, parks, squares, out door entertainment, backyard fun and other business functions. |
| Accessories | repairing kits(including same color repair patches, glue), blower, instructions, storage bat, etc. |
| Feature | Well tailed / Durable / Water and fire proof/ High temperature and low temperature resistance / UV-Resistance |
| Workmanship | Professional machine for cutting, printing & sewing, to ensure the quality in all process, workers will reinforce strips at joints and corners. |
| Service | fast and efficient service |
Custom inflatable bubble football, body zorb ball,Professional factory supplying inflatable bubble footballs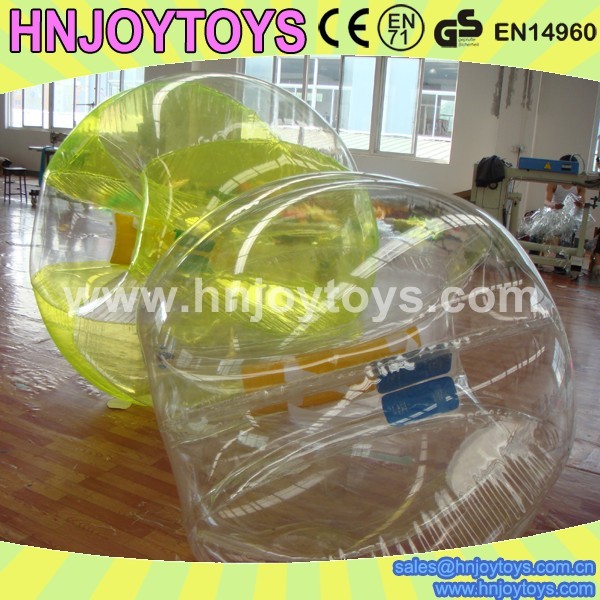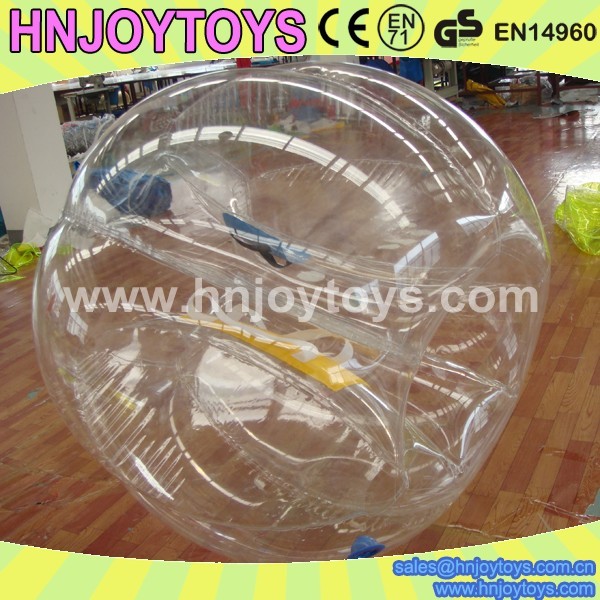 ------------------------------------------------------------------------------------------------------------------
details on craft and our design for inflatable bubble footballs
we wish you can find the reson to choose us.
All of our products make reinforce strips at the bottom, joint at each conner.
1 .Professional Digital Painting:
We mainly have digital print, silk print and hand painting on inflatable competitive mattress game .
2 . we use the seam reinforcement strips to construct the mattress seams.
3.Double to quadruple stitches throughout the whole structure.
Norms EN 14960 Standards-safety guaranteed.
4.Anchor and D ring for fixation.
Each Inflatable Obstacles will be equipped with anchor rings, rope and stake for fixation.
5 . auto Cutting Machine which is accurate and better than hand cutting our competitor use.
6 . removable covers on the slides which is a high polished urethane coating and don't need to wax on the slides.
7.Convenient air flap and Durable Zippers . (1m long zip out with velcro flap)
Convenient air flap can help you to deflate and inflate Inflatable Obstacles more quickly in just minutes.
8. spare inflatable tubes are manufactured for your convienience .
9. baffles that are secured by 840 denier material that provides the maximum strength of internal baffling of every inflatables.


10 . accesary

certification and feedback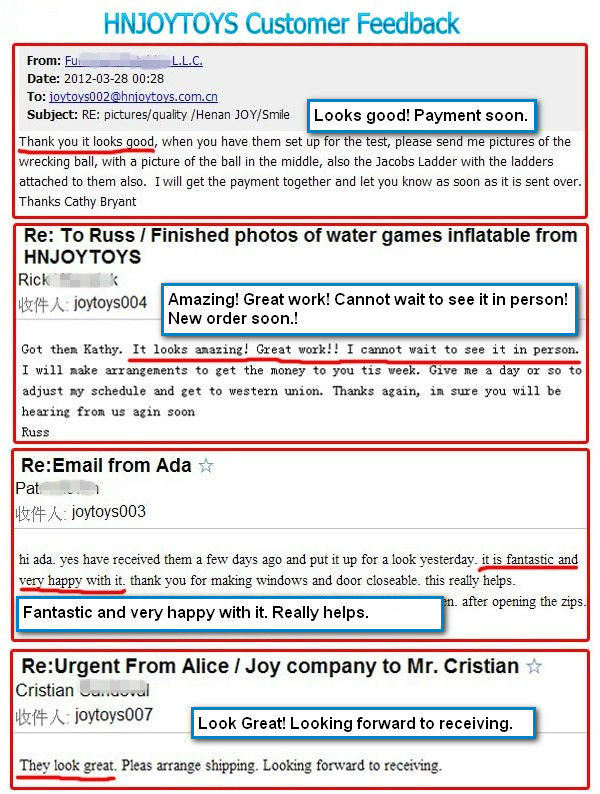 sturdy package for inflatable bubble footballs

We always provide our clients more choices,it is convenient to get anything inflated sports games from us.
leave your information and we will give you more specifications

MORE ORDER.MORE DISCOUNT!
1 How many kids can play on the inflatable bouncer and castle?
Generally it takes 1 square meter for one kid to play in. Pls follow the instruction for each bouncer.

2.If shipping by sea why we have to pay other costs when we have paid shipping cost?
We only charge the shipping cost. You have to pay the tax, DOC, ERS etc. The cost is different as per different sea port. This can be specified before you place the order.
3. Can I use my inflatable indoors?
Yes, HNJOYTOYS inflatables can be used indoors as long as the anchoring points are sufficiently weighed down to prevent the unit from flipping over, and you have the necessary clearances. Please note that there is a 4 foot inflation tube in the rear of the unit.
4. What kind of power do I need?
Inflatables run off of 110v or 220V power and require a consistent flow of power for operation. If you plan to use these in an area that doesn't have power readily available, you will need a generator.
5. Is my bouncer repairable?
Yes! A repair kit and instructions are included in each HNJOYTOYS package. You can repair your bouncer by patching or sewing it.