'Chocolate'has gone through many centuries of development. After many centuries of development, However, the largest chocolate manufacturer in North America has now been labeled with unhealthy labels such as'high fever','high fat',and sweet and greasy'.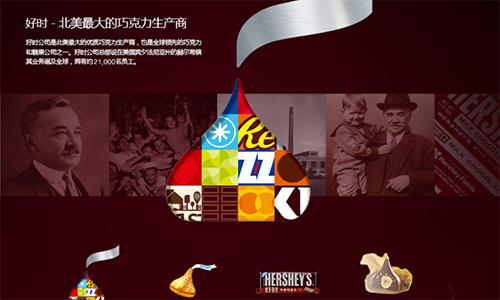 From Hershey's
Chocolate consumption grows slowly
Chocolate is one of the important sub-categories of candy. In recent years, as the candy industry has been seriously affected by sugar reduction trends and consumption upgrades, chocolate consumption has shown a slow growth in single digits.
According to the data compiled by Zhiyan, the global sales of chocolate products reached 118.62 billion U.S. dollars in 2019, an increase of 4.4% year-on-year in 2018, and global sales are expected to exceed 135 billion U.S. dollars by 2023. In terms of consumption, the global consumption of chocolate products in 2019 reached 10.424 million tons, an increase of 1.8% year-on-year in 2018. It is estimated that global consumption will exceed 11 million tons in 2023.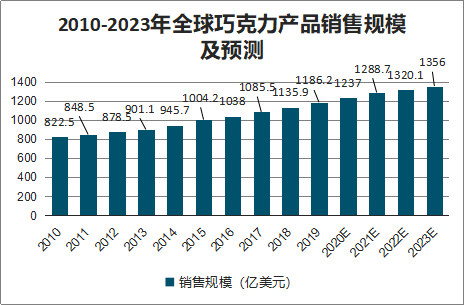 Chocolates'global sales estimation (hundred million US dollars)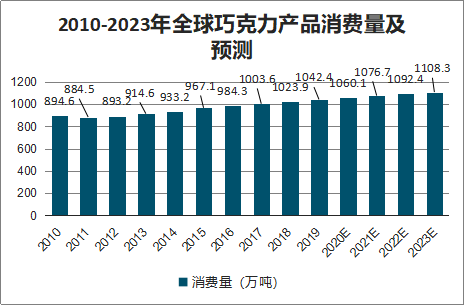 Chocolates'Global consumption
At present, Europe and the United States are still the main areas of chocolate consumption in the world, especially the United States. The world's TOP10 chocolate manufacturers are mainly from Europe and the United States.
As one of the world's biggest food consumers, China has always been a competitive market for the world's major food manufacturers. According to Euromonitor data, the size of the Chinese chocolate market in 2016 was 18.4 billion yuan, about 20% of the candy market. After two years' adjustment, chocolate consumption recovery slowly in China.
According to the results of 'Chocolate Consumption Research', chocolate consumption of post-95 young people has slightly decreased due to the weigh management and health problem.
Chocolates' self-rescue action
In order to comply with consumers' health concepts, the chocolate industry has launched a series of self-help operations.
1) Boxed gifts on holidays
Seizing the opportunity of festivals, weddings and other special periods is still the 'time' that chocolate sales should master.
Boxed packaging is still a key factor in the overall growth of chocolate candies. Gifts that are closely related to holidays and romance are the motivation for buying boxed goods, especially in high-end packaging.
It is not difficult to find on Hershey's official website that Hershey has set up a special product recommendation page for weddings and festivals. Of course, the classic drop-shaped 'KISSES' of Hershey is sold.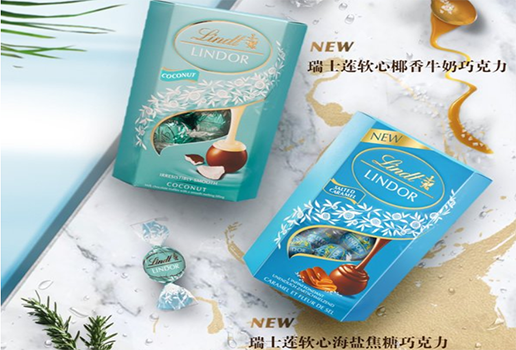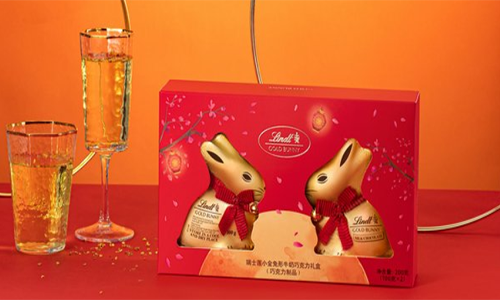 2) Brand endorsements to expand influence
As the number one chocolate brand under Mars in China,Dove has made everything from Li Yifeng, Angelababy, Zhao Liying, to the rocket girl Yang Chaoyue, to the mobile game 'Love and the Producer' in the second element in the past few years. The traffic's fresh meat flower and the second element IP have been requested all over. From content to emotion, Dove's precision marketing has won its 'first brand' status in the Chinese chocolate market.
3) Cross-industry joint name, big change in form
According to marketing data, the cross-border combination of chocolate, beauty, and accessories has become a hot new product, and the sales scale of gift boxes and the number of consumers have increased by nearly 50 times year-on-year. Chocolate with perfume set, chocolate with lip glaze, chocolate with eye shadow...Sets are endless.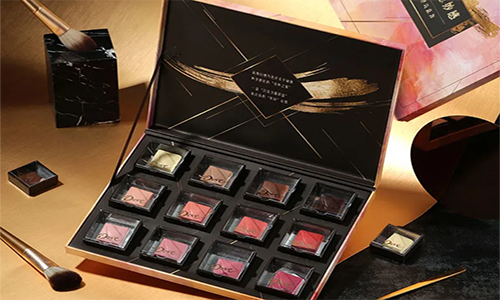 Plant-based products changes chocolate
After all, the above has not changed the inner nature of chocolate. The edibility of chocolate itself is still subject to the psychological barriers of 'high heat' and 'high fat'. If you want to fundamentally change the chocolate, you must start with the ingredients. The plant-based diet that has emerged in the past two years is a 'revolution' in the food industry which has rapidly developed in response to people's demands for health.
Can plant-based products help chocolate get out of the food 'red light zone'?How to fundamentally change the 'disadvantages' of chocolate in the eyes of modern people?
1) Plant base makes chocolate a popular taste
In recent years, the introduction of plant-based products has continued to provide more possibilities for the application of chocolate to cereal bars, plant milk, biscuits and other categories, and has become one of the popular flavors.
Veggies Made Great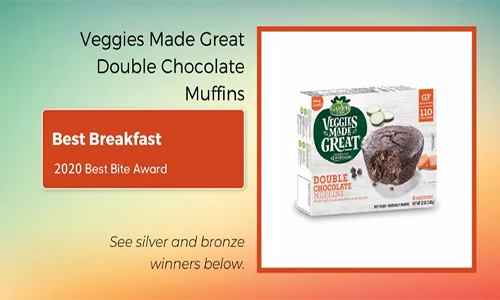 It looks like an ordinary chocolate muffin, tastes similar to a lava cake, but the main ingredients are zucchini and carrots. This gluten-free muffin is made with only simple ingredients, rich in nutrition and delicious in taste.
Justin's Chocolate Peanut Butter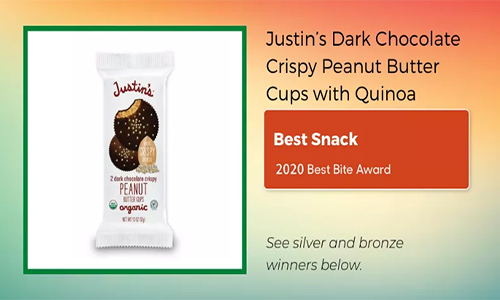 Ingredients: organic dark chocolate (sucrose, cocoa beans, cocoa butter, soy lecithin [emulsifier]), organic peanut butter, organic cane sugar, organic quinoa, organic peanut flour, organic palm oil, sea salt, organic sunflower lecithin.
Kind Breakfast Peanut Butter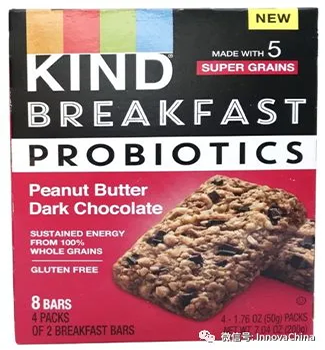 From innova
This breakfast bar is made of 100% whole grains, including brown rice, oats, millet, buckwheat, quinoa, grain amaranth and other healthy grains. It is gluten-free and contains 500 million CFU of Bacillus coagulans GBI-30 6086 per serving. More conducive to digestion.
2) Plant base allows chocolate to remove the drawbacks from raw materials
The production of chocolate mainly involves cocoa butter (cocoa powder), dairy products, sweeteners, etc. By replacing or adding plant-based raw materials to chocolate products, it is one of the important ways to fundamentally improve the current 'high fat', 'high heat', 'high sweetness' and other shortcomings of chocolate.
Nomo Chocolate bar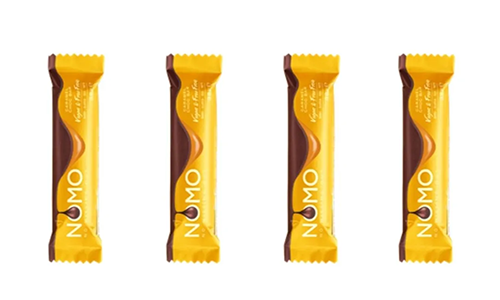 Kinnerton's chocolate brand Nomo has launched a vegan caramel-filled chocolate bar in the UK. The new product is made from non-dairy products instead of milk and contains a vegan caramel-flavored filling.
LOVE RAW:Vegan Chocolate for Unvegan Vegans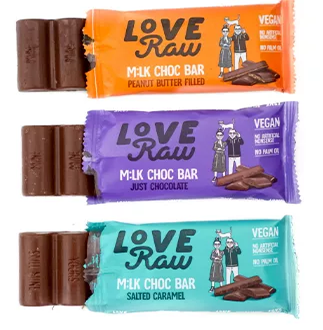 Fabalous Organic:Hazelnut & Cocoa Chickpea Spread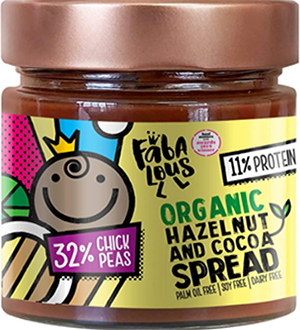 Conclusion
Once dark chocolate was scorned for its bitter taste, it has recently become one of the important SKUs of new products launched by major chocolate brands. The reason is due to the upgrading of tastes of modern consumers and the deepening of health concepts, chocolate consumption has undergone changes from crowd to snacks, and its essence will also move towards healthier, more nutritious and more diverse'future food'.
Original link :https://www.21food.com/news/detail75221.html