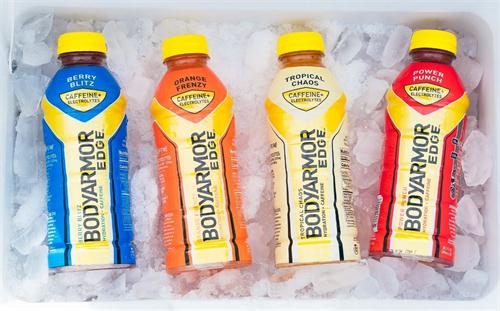 BA Sports Nutrition has expanded its Bodyarmor portfolio with the introduction of Bodyarmor Edge, a new sports drink with natural caffeine.
Containing no colours from artificial sources, the new offering comes in four flavours: Berry Blitz, Tropical Chaos, Power Punch and Orange Frenzy.
Bodyarmor Edge claims to deliver the same hydration benefits attributed to Bodyarmor Sports Drink, combined with natural caffeine.
Developed with the same coconut water-based formula as Bodyarmor Sports Drink, the new beverage provides more than 1,000mg of electrolytes plus 100mg of natural caffeine. Bodyarmor's latest product is also said to contain antioxidants, natural flavours and sweeteners.
Bodyarmor Edge is available now from stores nationwide in the US, as well as via Amazon.
"Bodyarmor has transformed the sports drink category by providing hydration options that today's athletes want and need – and Bodyarmor Edge is our most innovative product yet," said Brent Hastie, president, Bodyarmor.
"Bodyarmor Edge combines our proven sports drink formula with a boost of natural caffeine for consumers who are looking to get more out of their day. We are excited to launch Bodyarmor Edge, another game changer in sports nutrition and performance within our portfolio of active hydration products."
The Coca-Cola Company purchased a minority stake in Bodyarmor in 2018, as it looked to adapt its product portfolio to meet changing consumer preferences.
Original link :https://www.21food.com/news/detail75583.html